9 New Creative Tips For Video Game Ads – SocialPeta
In 2020, due to the impact of the epidemic, games have become the preferred entertainment method for most people in this special period. This has also led to a surge in the share prices of many game companies around the world, and game advertising will also show an upward trend in 2020.
Video ads have become the preferred material type for game ads. SocialPeta analyzed the game material trends in the first half of 2020, and we clearly see that video game advertising has accounted for 90% of all game advertising.
But not all video game advertisements can bring conversion effects. Different games require different creativity to attract users. How to design a video game advertisement that is more attractive to users?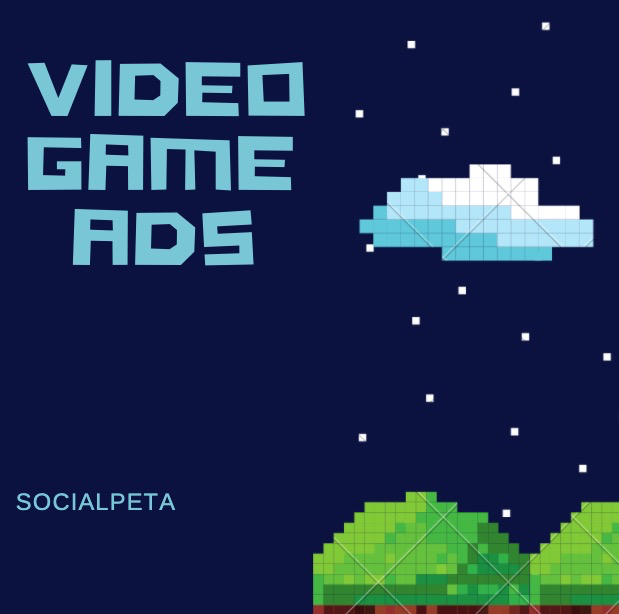 1. Imitate the classic game – Super Bino Go
Super Bino Go is a brand new 2020 vintage old-fashioned adventure game, it will surprise you with the biggest adventure from Bino to Wonderland!
Super Bino Go will lead you back to your childhood and complete the legendary mission: Princess Rescue. Your task is to help Super Bino fight all the ugly monsters through different islands to save the beautiful princess at the final destination.
This game is imitating Super Mario Bros. Super Mario Bros was created in 1985. For many people born in the 80s and 90s, they are the representatives of childhood.
Now Super Bino Go has launched a mobile game imitating Super Mario Bros, which pays tribute to the classics and can quickly attract players who are familiar with the game.
On SocialPeta, we saw that Super Bino Go's game advertisements were also modeled after Super Mario Bros' games. The game video ad time is only 15 seconds long, but after 283 days of being posted on Facebook, it received 303.5k likes and 11.9k comments. The classic childhood game will make everyone familiar with this game more quickly and narrow the distance between users.
Many games are not completely innovative. They will learn from some classic game segments. In the game video ads, familiar segments can be used to wake up users, bring users closer, and let them learn more about the game.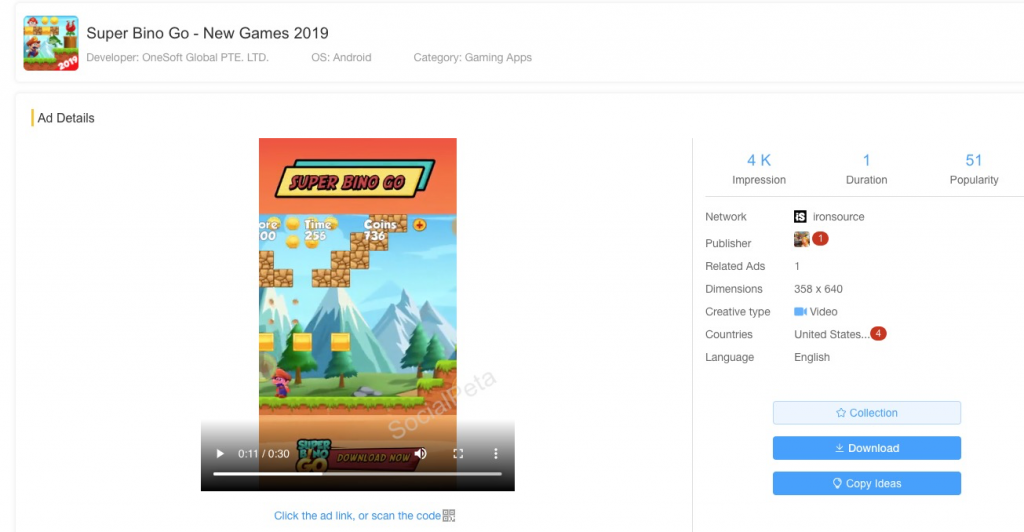 2. Set off the intense game atmosphere – Call of Duty
Call of Duty is a shooting game launched in 2003. Shooting for this type of game brings users an intense and intense experience. As of 2019, this game has undergone 16 version updates. This game video advertisement promoted on AdMob in December 2019 is to promote the latest game revision.
This game has certain popularity, the latest revision is to bring the better gaming experience to users. Users usually like to get a kind of intense emotion in the game. And this game video advertisement highlights this plot. Its background color is mainly dark red, coupled with the continuous sound of gunshots, to maximize the intense and exciting game atmosphere.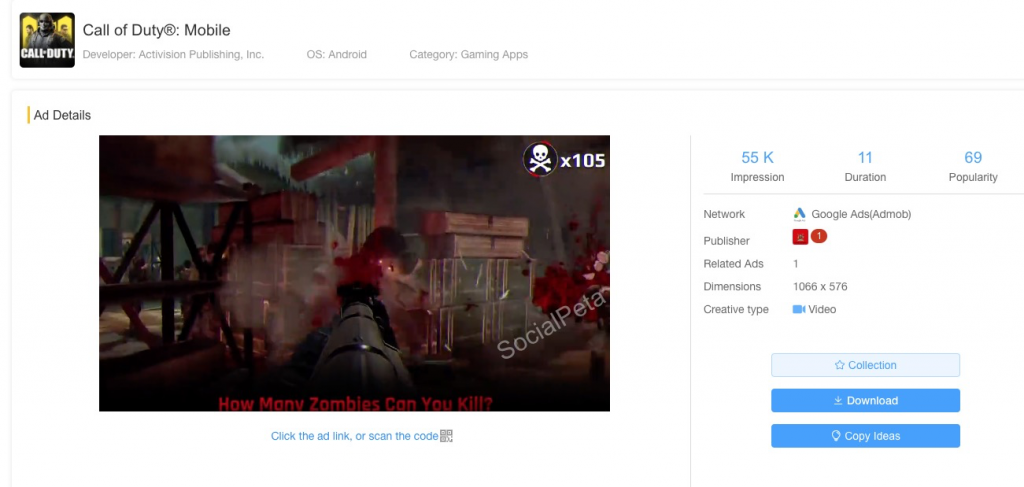 3. Exquisite design – My Home
Use objects to create a perfect home. This is a 13-second advertising video. The content is to redesign and paint a room with some simple furniture materials. Show your desire for a home with game props. Although it is just a simple mini-game, it is everyone's desire to design a home of your dreams.
Exquisite game design and perfect home presentation are the core of this video ad and the key to impressing users.
This game has a total of 273.8k likes, and the exquisite game design can always attract users' attention for the first time.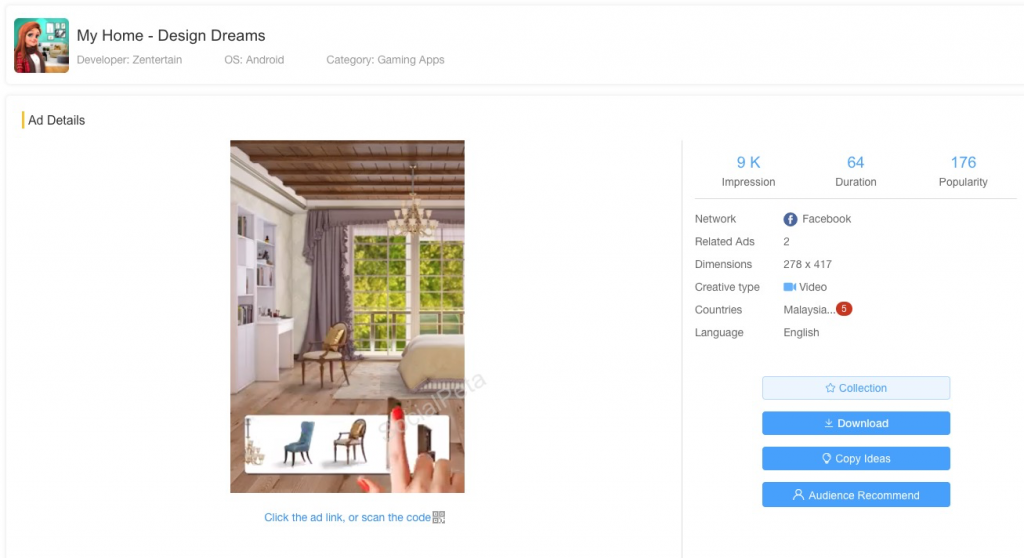 4. Emotional provocation – Find The Differences: The Detective
This is a simple catch-up game. The content of the game is on a bus, a lady's things are stolen, and the thief is among the five people behind. Players need to compare the differences between the five people to find the real thief. This is a detective game that uses finding differences to solve crimes.
Such a simple game video may make users look for different interests, but this ad makes users willing to download and try the game is the sentence "I'm sure you can't catch 5th thief" above the entire video ad. This provocative sentence will provoke some users' rebellious psychology and are willing to download the game to try it out. Some users will also say that they have seen through the advertising routine, but can they stop playing the game after seeing through it?
So this ad was posted on Instagram for 1 day, and it got 1M likes and 5.3K comments. Provocative language must be operated appropriately, which can arouse users' interest in the game and allow users to enter the game plot faster.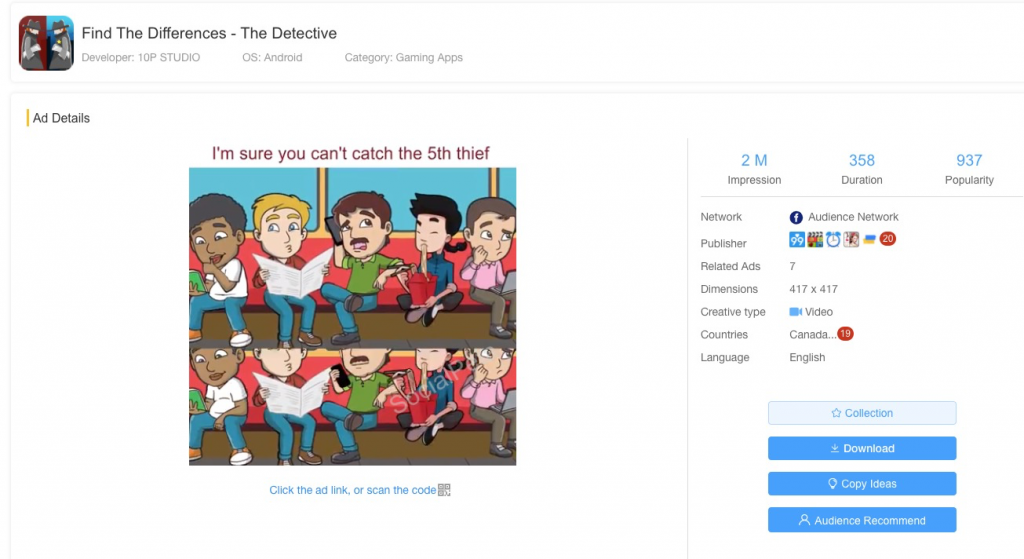 5. Record real game content – Empire War: Age of hero
The following is a classic creative material of the "Empire War". The effect of the advertisement has continued to improve. The creative content is very simple. The unique game sound effects and the game content recording screen dynamically display resource collection and multi-person collaboration to complete the map. The expansion process is welcomed by users.
If a game has a huge world view and character view, the game itself is the best advertising material.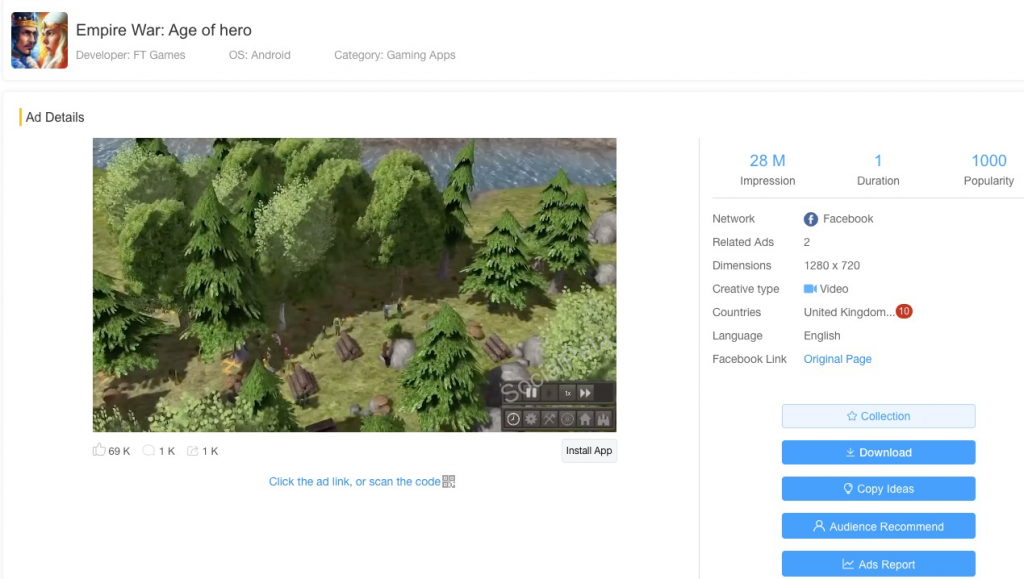 6. Playable Ads
Now more and more game advertising platforms have launched Playable Ads, such as Facebook and AdMob. As a new type of interactive video advertisement, the demo advertisement allows users to try online without downloading. It has strong interaction and high applicability, real restoration scenarios, and efficient user conversion and retention, which brings higher levels to game advertisements. ROI.
Trial ads have more advantages, such as:
Really enter the game experience
Feel the gameplay before installation
Find users who are more interested in the game for advertisers
Bring higher ROI through efficient user conversion and retention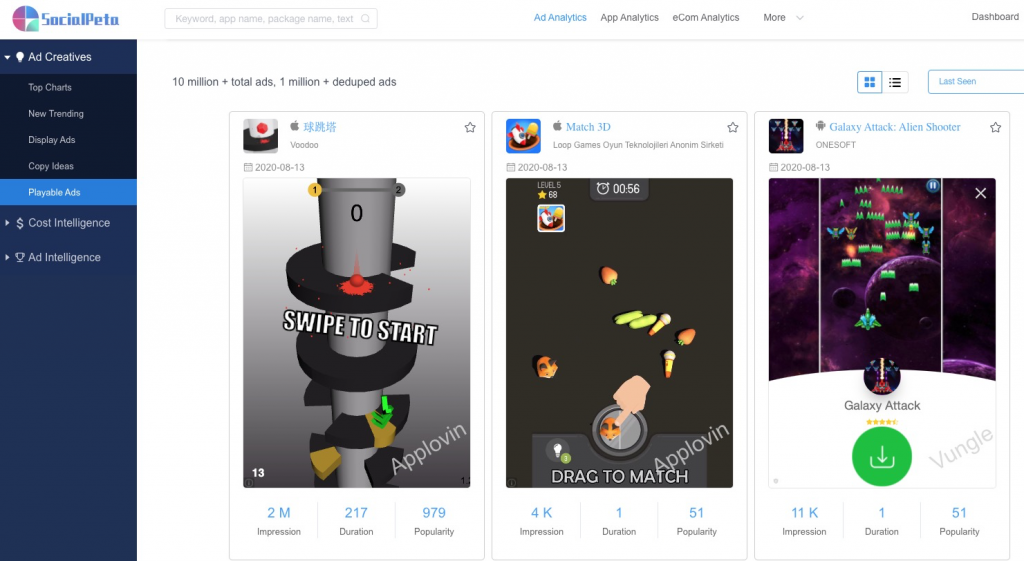 7. Equipment Upgrade – Art of Conquest
No matter what kind of battle background game, the first point of improvement in almost all games is equipment. Different equipment attributes and equipment upgrades bring different levels of game combat, which is a developmental game experience that large game players like.
Art of Conquest shows the difference between monsters and monsters caused by different skills of different game equipment and equipment upgrades. This game has a total of 26 seconds, showing the differences in 3 kinds of equipment and monsters, allowing users to get better gaming experience.
Art of Conquest's game ads were run for a total of 246 days and received 52.1k likes.
Research by SocialPeta found that equipment upgrades are a favorite element in most combat games and some technological games, and it is also a feature of game players to get the pleasure of the game. So impressing users with equipment upgrades will be more attractive to users.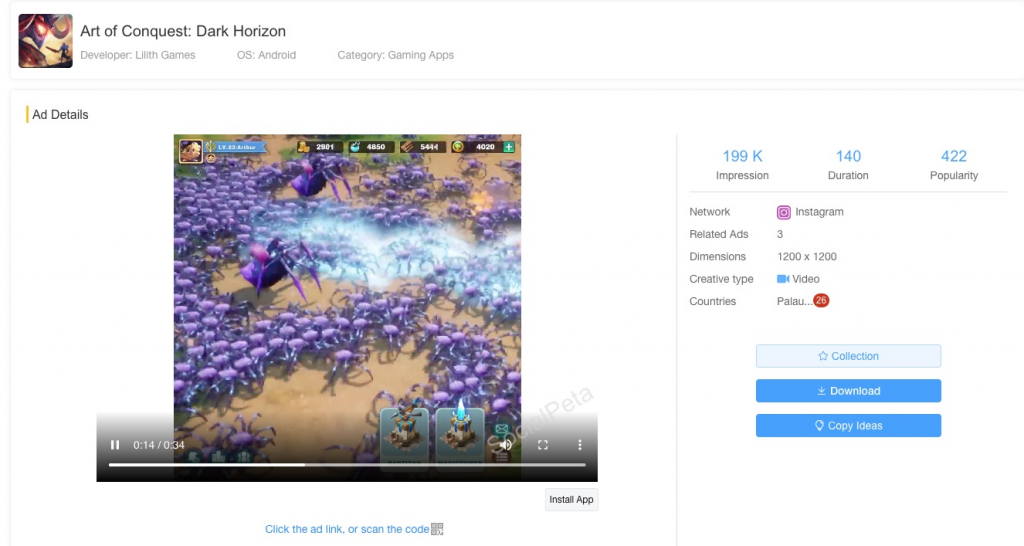 8 Combine with animation and two-dimensional-place girl
Idle Girl is a two-dimensional idle mobile game with the theme of Three Kingdoms. It contains a number of animation character models selected by the players themselves, collecting them, and training them, which is a development mode experience.
After this game was launched on AdMob for 161 days, it gained 999 game popularity. The video advertisement of this game puts two two-dimensional characters with strong personalities and appearances together for comparison, which narrows the specificity of users and allows users to enter the game faster.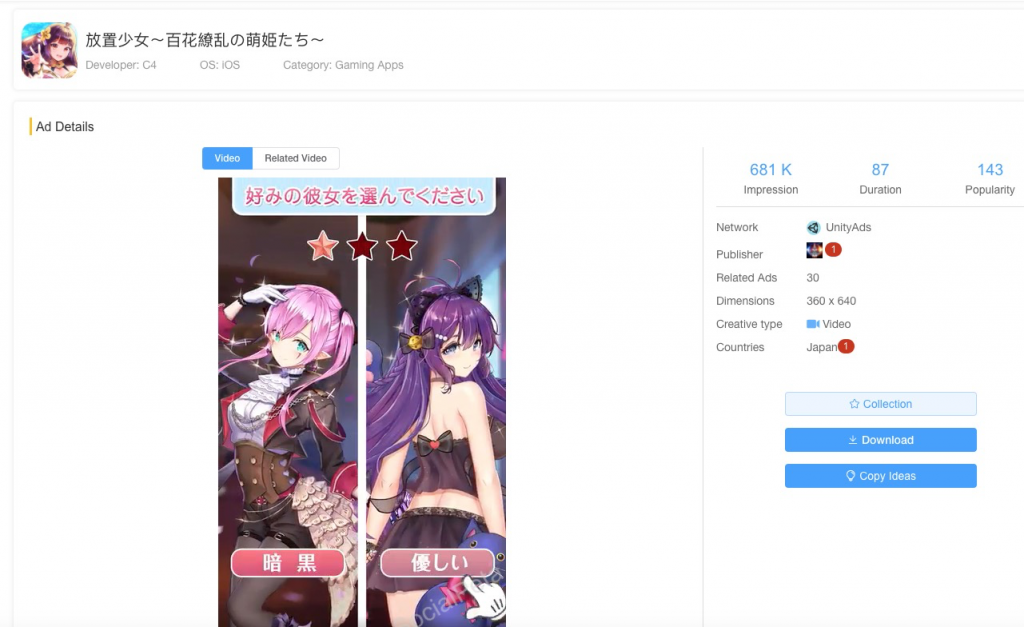 9. Story scene-Harry Potter: Hogwarts Mystery
Harry Potter: Hogwarts Mystery is a dress-up game, but the background design of this game comes from the plot of Harry Potter movies. The plot of Harry Potter's movie is tortuous and thrilling. Under such a story background, users can design different costumes according to different movie plots to bring into the game plot.
And Harry Potter's game video advertisement design also uses the creative design of the game to change different clothes in different movie plots.
This simple drag game got 14K likes and 4k comments on Facebook. Bringing in the storyline allows users to integrate into the game scene faster, even simple clothing matching games become more vivid.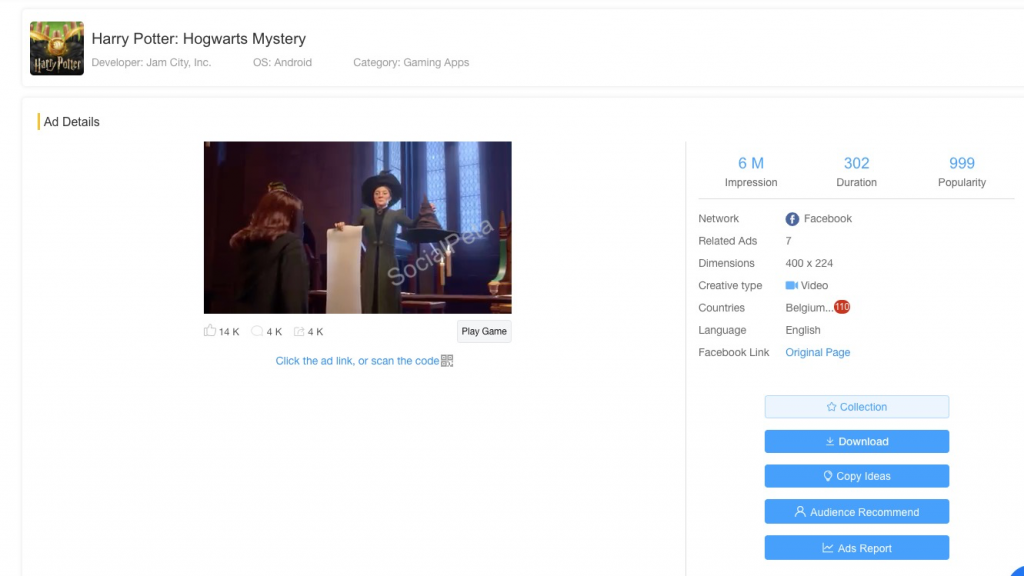 On SocialPeta, we can also see more types of game video advertising ideas, let's take a look!