5 Competitive Intelligence Tools For Medium And Large Enterprise
Why do you need competitive intelligence?
Competitive intelligence is information and research about the competitive environment, competitors, competitive situation and competitive strategy. It is both a process and a product.
Competitive intelligence is already a necessary piece of information in the development of an enterprise. The main role of competitive intelligence in marketing is:
Discover new or potential competitors
Grasp the dynamics of competitors
Learn from others' success or failure
Discover competitors' marketing strategies
Grasp the direction of future promotion
Competitive intelligence is essential data in market competition, and now there are more and more tools to help companies obtain competitive intelligence. The large and medium enterprises have a greater demand for competitors, because their investment in the market is larger, they must have a clear grasp of the development of competitors and the market. Below I list 5 the best effects on large and medium enterprises' competitive intelligence tools.
SocialPeta: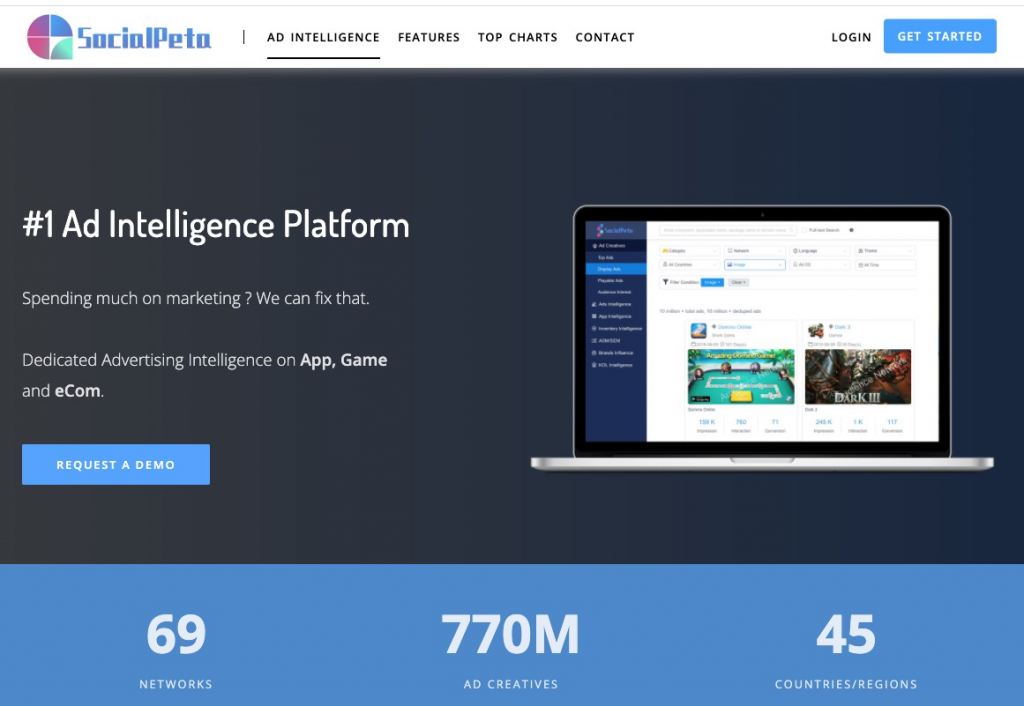 SocialPeta is a multi-faceted tool for collecting and analyzing competitive intelligence. SocialPeta provides competitors with ads, apps, and social intelligence for users.
effect:
SocialPeta can monitor advertisements in 45 countries and 68 online platforms, and SocialPeta analyzes competitors' advertisements from five main aspects: advertising creativity, advertising audience, advertising costs, advertising performance, and advertising copy. In addition, if you also want to know on which platforms advertisers and publishers place ads, budgets, and advertising effectiveness of each channel, SocialPeta will also provide detailed advertising intelligence. SocialPeta's analysis of advertising data is perfect. It takes into account various factors that affect advertising, and conducts a lot of analysis on these factors to make the advertising world more transparent and clear.
In addition to ad data, SocialPeta also has research on APP intelligence and social data of celebrities. If you want to know the celebrities who cooperate with competitors, or if you want to find the right influencers to cooperate with, then SocialPeta can provide you with data support. For app intelligence, SocialPeta can provide App analysis and Keywords Intelligence.
In addition to the above intelligence data, SocialPeta also has an in-depth analysis of the game industry and e-commerce industry. He will generate the latest game data reports every week, including the overall trend of the game market and the types of games in different countries. For the e-commerce category, it mainly provides information on selections and brands.
Audiences suitable for SocialPeta:
SocialPeta's current main market users include game and e-commerce companies, as well as some customers who need tools.
SocialPeta has the largest database of advertising ideas, and also uses big data to analyze the advertising marketing trends of major countries in the world. So for medium and large companies, SocialPeta is a good tool to analyze competitors' advertising strategies and obtain more detailed market data. And SocialPeta also allows competitors to have a deeper understanding of the market platform and promotion of countries and regions.
So, if you want to learn more about market change intelligence and competitors' detailed marketing strategies, then SocialPeta is definitely the best choice.
Different functions of SocialPeta can be sold separately, and different functions have different quotations, you can leave contact information for a more detailed explanation.
AdBeat: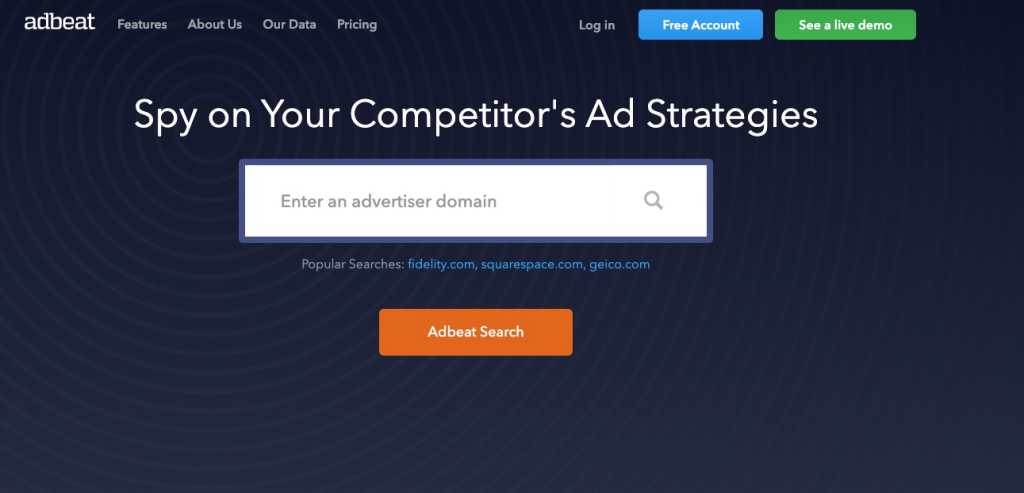 effect:
With Adbeat, advertisers can see what direct competitors are doing and how they are doing. In addition to viewing ads and messaging in use, we can also show you the source of traffic, including how to buy media and which publisher the ad runs on.
AdBeat is a very useful intelligence service. It allows you to monitor and analyze advertisements posted by competitors. It shows you the creative, message, location, size, etc. This is very helpful for us to track competitors and master their marketing strategies.
AdBeat can discover competitors' most successful publishers, ad copy, and landing pages. You can copy their strategy to run more profitable display campaigns.
AdBeat tracks a large number of ad campaigns from competitors. For spy tools, this is a big data analysis requirement. In addition, accuracy and availability are the most important parts of spy tools.
The site is easy to use and navigate, especially for banner ads. If you want to advertise on the Google Display Network, you should try this tool for at least one month. It can help you find better placements and advertising tips.
Audiences suitable for AdBeat:
Adbeat is an intelligence platform for advertisers, agencies and publishers.
Before creating a campaign, use AdBeat. It can save you time and money.
Companies that need to obtain a competitive analysis. AdBeat can help you find better placements and creatives.
MobileAction: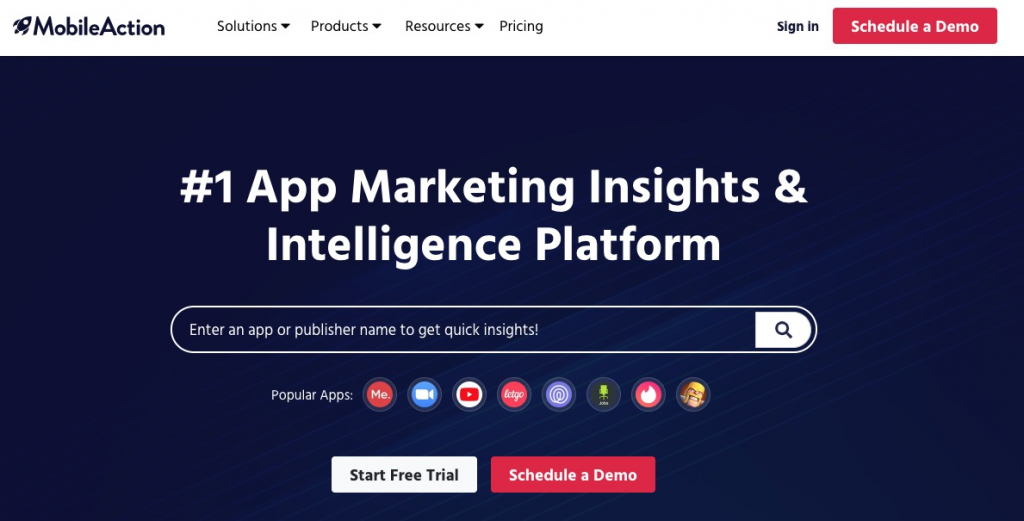 MobileAction is an application store optimization tool, ideal for web publishers and marketers. It enables companies to manage keyword or category rankings, track customer reviews, and ratings, etc. The main functions of MobileAction are divided into 3 major modules:
Promote organic growth and paid growth, increase application visibility and increase conversion rates.
ASO Intelligence is a comprehensive set of tools that allows you to delve into keyword research and track competitor keywords.
Any insights you can gain from competitors will give you a huge advantage. By using Mobile Action, you can not only find keywords with great potential, but also monitor competitors and see which keywords they use.
Make your application a success story, reveal the best strategies of competitors, and use them to improve product performance.
For applications that generate high revenue, Market Intelligence provides the necessary data to benchmark your application with competitors.
You can access historical data on download and revenue figures, as well as daily active users and monthly active users. You can even delve into the geographic location of your audience to understand where competitors' users are located around the world.
Maintain the pulse of the advertising ecosystem and analyze the entire market data to discover factors that increase participation and conversion rates
The vast majority of application marketers will place search ads on one or more online platforms, and it will track to understand the strength of competitors. Ad Intelligence allows you to see who is advertising on Facebook, Admob, Unity, Vungal, Ironsource, and Apploving.
Audiences suitable for MobileAction:
If you are an independent application marketer and have a certain budget to spend on purchasing high-quality ASO tools, or an agent with a roster of customers, then this is undoubtedly a platform worth testing.
Appgrowing: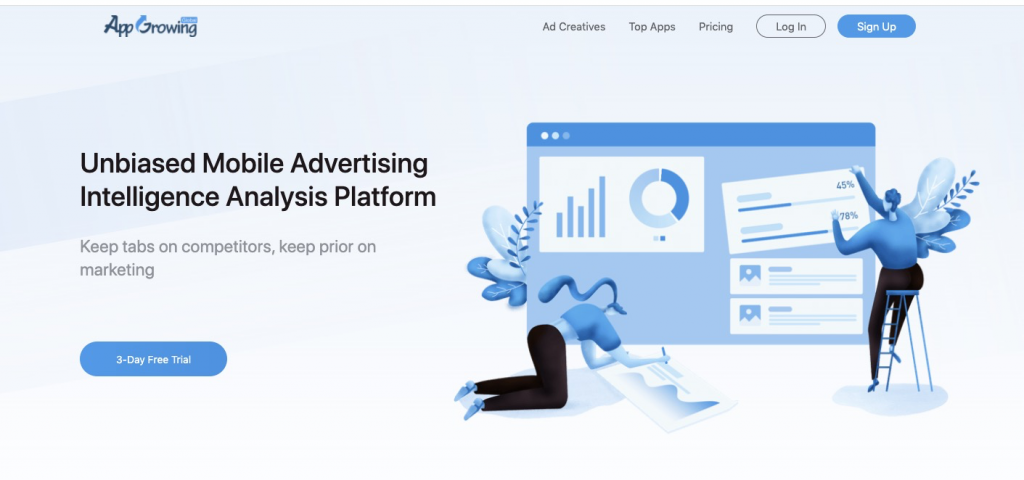 Appgrowing is an advertising intelligence analysis platform, which helps users pay close attention to competitors and maintain marketing opportunities.
effect:
Collection of advertising intelligence covering a variety of mainstream media. Millions of creatives in various ad formats are updated every 10 minutes.
Monitor market advertising trends and adjust advertising plans accordingly. Master competitors' advertising strategies to estimate campaign budgets.
In-depth analysis of media performance, from type to scale, to select the right media. Evaluate the local influence of the media from multiple angles.
Audiences suitable for Appgrowing:
Understand the media networks where advertisers receive traffic.
Track competitors' advertising effectiveness to adjust advertising plans and maximize ROI.
Reduce test budgets by using the most popular and profitable creatives.
For advertising agencies:
In-depth understanding of advertisers' competitive advertising strategies and develop better marketing plans.
Understand the amount of advertising budget and find potential advertisers.
Keep up with market competition details.
Discover the most popular advertising formats on the market to adjust the platform's advertising content strategy to better profit.
Tailor the right marketing solutions for different types of advertisers.
Keep abreast of advertising trends and stay ahead of competitors.
Dataeye-ADX:

ADX is an intelligence analysis tool that focuses on advertising in the mobile game industry. Through continuous tracking and grabbing mobile game advertising materials and marketing ideas on mainstream media, big data-related technologies are used to mine and analyze the valuable information contained in each advertisement.
effect:
The ADX homepage is a ranking list with APP as the core, which can screen the theme, gameplay, art style, product type, equipment system of the game APP. So for game segmentation, ADX is a good competitive intelligence gathering tool.
Dig deep into the mainstream media advertising data, keep track of the latest developments in media advertising, understand the most cutting-edge information on advertising, and conduct targeted and strategic optimization of advertising. Overall grasp the market dynamics and understand the media channels put in by competitors.
Advertising Intelligence Analysis
Analyze competitor products from a unique perspective, deeply understand the pain points and difficulties of mobile advertising, and dig deep into the three elements (copywriting, materials, landing pages) to achieve the intelligent analysis of advertising.
The perspective of company operation
Dig deeper into the operational information behind the advertising, such as intermodal companies, shell companies, and agency companies, and keep abreast of competitors' placement information to help open and transparent ad placement.
Audiences suitable for ADX:
Any media buying hopes to have a deeper understanding of the mobile game market, you can also try Dataeye-ADX.
The above are five competitive intelligence tools commonly used by large and medium enterprises. Their data research directions are mainly focused on APP, advertising, products, and company background analysis. However, the partial emphasis of each tool is different, and the price difference is also very large. If you need competitive intelligence, you can try the above tools to find the most suitable for you.