Terrific Brand Intelligence Solutions For E-commerce – SocialPeta
In the information age, marketing information has exploded in dissemination, and most users forget the information that comes out every day, and the continued popularity of news is short-lived.
There are more and more ways of media communication, making users more active in receiving information. With the influx of large amounts of information at the same time, brand marketing has become more and more difficult.
In the ever-changing environment, brands urgently need a set of clear and refined brand communication symbols and ideas, which can be used as a brand methodology from traditional marketing to smart marketing. The brand intelligence solution helps more companies establish perfect brand marketing methods, capture brand-related information from the vast network of information, and use brand intelligence to solve complex market problems.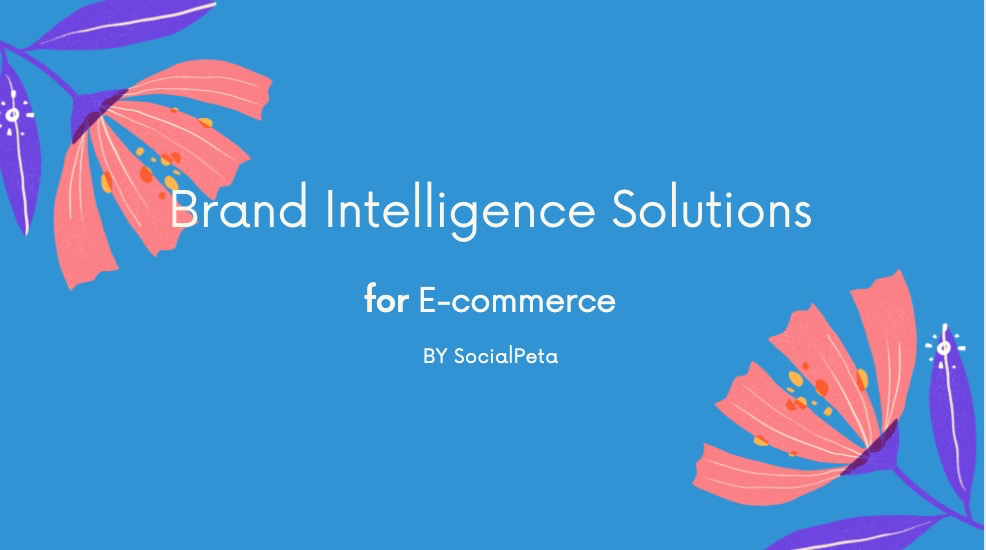 Purpose of brand intelligence solutions
Brand intelligence can diagnose and monitor the specific information of a brand in real-time to ensure that it contributes to the achievement of business goals and customer expectations. The brand is a market concept, and it centers on customer perception. Brand intelligence can use data to help brands better protect users' trust in it, and make the brand the biggest endorsement of the product. This is the purpose that SocialPeta brand intelligence can solve.
What does the brand intelligence solution include?
Brand protection
Although companies are doing their utmost to protect their brands, but only seeking market share and brand awards in the industry are too superficial proofs, which are misunderstandings in brand protection.
The core of brand protection is to provide quality products or services. Brand protection must ensure:
Registered brand trademark
Prohibit fake and inferior products with product logos
Timely public relations or apologies for negative brand events to compensate users for losses
Brand Perception Surveys
A brand awareness survey is a complex model. It needs to consider the brand survey model from multiple angles and select people who can bring us high-value feedback.
The most important part of the brand awareness survey is the consumer's impression of the brand. This survey can help you understand the minds of real customers, find potential customers, and what the company employees and other stakeholders think about the brand. Their evaluation is an effective reference to evaluate the value of the brand, and through a user, evaluation to know the difference compared with competing brands.
Brand ad market evaluation
Which suitable online platform should a brand choose to advertise in order to reach core users? Most brands need to carefully screen different advertising network platforms to achieve the best brand promotion effect. Now SocialPeta's brand intelligence uses big data to analyze the differences between these platforms.
SocialPeta contains 69 network platforms. In addition to multiple worldwide social media and browsers, it also monitors multiple national network platforms.
SocialPeta counts the proportion of each channel's advertising classification, the proportion of countries, and the top 10 brands. For example, in the last 30 days, the brand advertising category of the Instagram platform is mainly concentrated in Shopping, and 30.27% of all advertising exposures are concentrated in the United States. So if your brand is shopping and your main target user is in the United States, then Instagram is a good choice.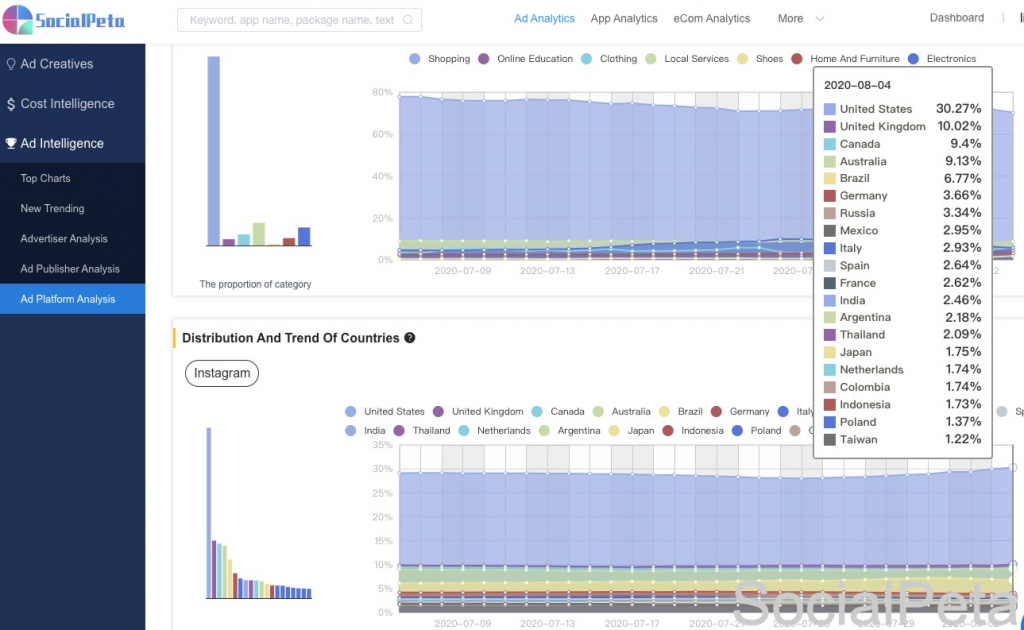 Competitive Brand Intelligence
In addition to the brand's own research, you can also directly analyze the advertising channels of competitors on SocialPeta, and analyze the advertising effects of competitors on different platforms as a reference. Brands can use competitors' advertising market performance to select better advertising network platforms.
In addition to the online platform, SocialPeta can also monitor and study the performance of competitors on different online platforms. As long as you enter the competitor's brand words, you can see the ad time and the likes of competitors on different platforms.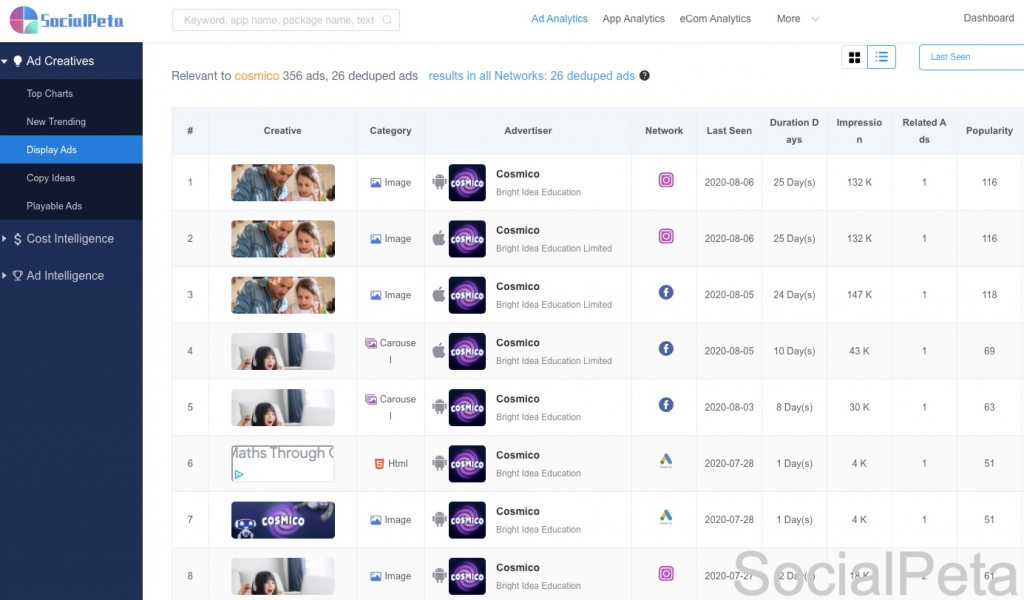 Brand ad creative intelligence
Brand advertising creativity is the primary way to attract users and convey brand value. Advertising is a bridge between a brand and an enterprise. For any brand that wants to be deeply rooted in the hearts of the people, advertising is a medium to convey feelings. Therefore, the brand's advertising creativity is critical.
SocialPeta is a perfect source of creative inspiration, because SocialPeta is an ad spy tool. It has collected hundreds of millions of advertising materials from 69 networks, and users can find excellent advertising creative case studies by searching, filtering, and sorting.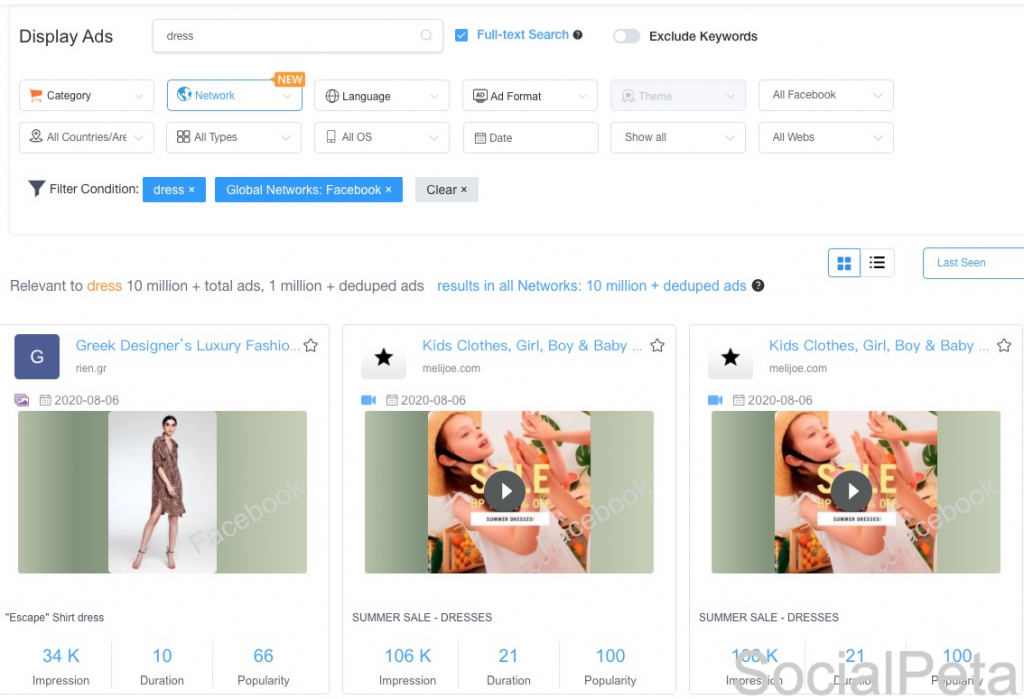 Brand ad cost intelligence
The cost analysis of advertising has always been a very mysterious topic, which is the core secret of every brand. Now SocialPeta has analyzed the advertisement bids of hundreds of thousands of advertisers through big data and created a cost intelligence tool. I took a screenshot, showing a total of 3 data here, CPC, CPM, and CTR. They indicated the changes in the ad bids of e-commerce ads in the Facebook News Feed ad slot in the last 90 days. With this cost analysis tool, brands can reduce advertising costs and no longer waste unnecessary advertising costs.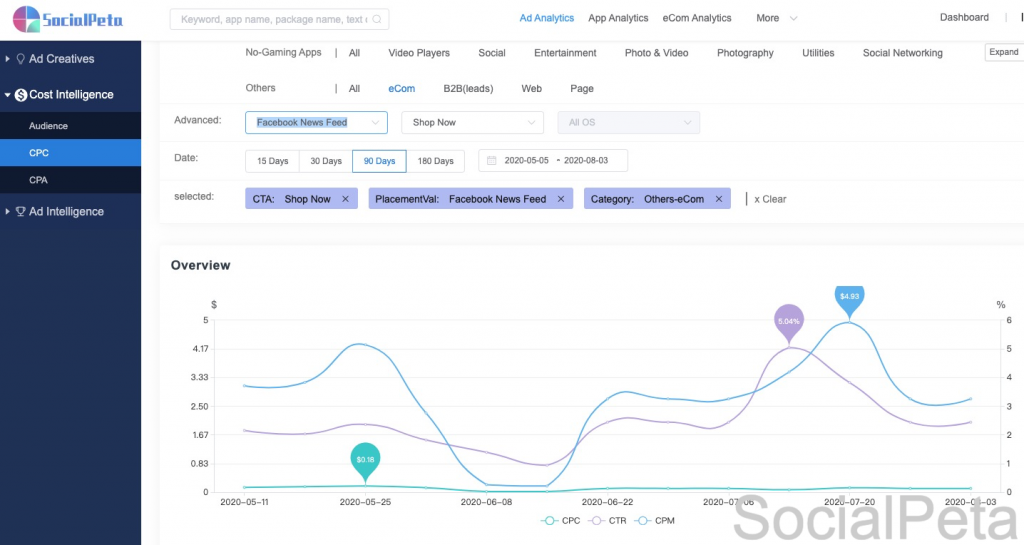 Brand audience interest mining
Many once smashing brands have gradually declined because they did not understand the interests of the audience. In the 1980s, with the popularity of western movies, Levi's, which produces cowboys, once soared 100 times its market value within a year. But because he did not grasp the psychological changes of the young audience, they insisted on their opinions and stood still. In the end, it fell into decline in just a few years.
Therefore, brands must always accurately grasp the changes in the interests of brand audiences. Now SocialPeta combines the third-party audience big data and Facebook's interest audience analysis to provide the brand with the relevant interests of the audience and the demographics corresponding to each interest.
This audience analysis is key to the brand analysis of user changes. You only need to enter brand words to get relevant interest recommendations and audience portraits, including age, gender, education, and other complete data.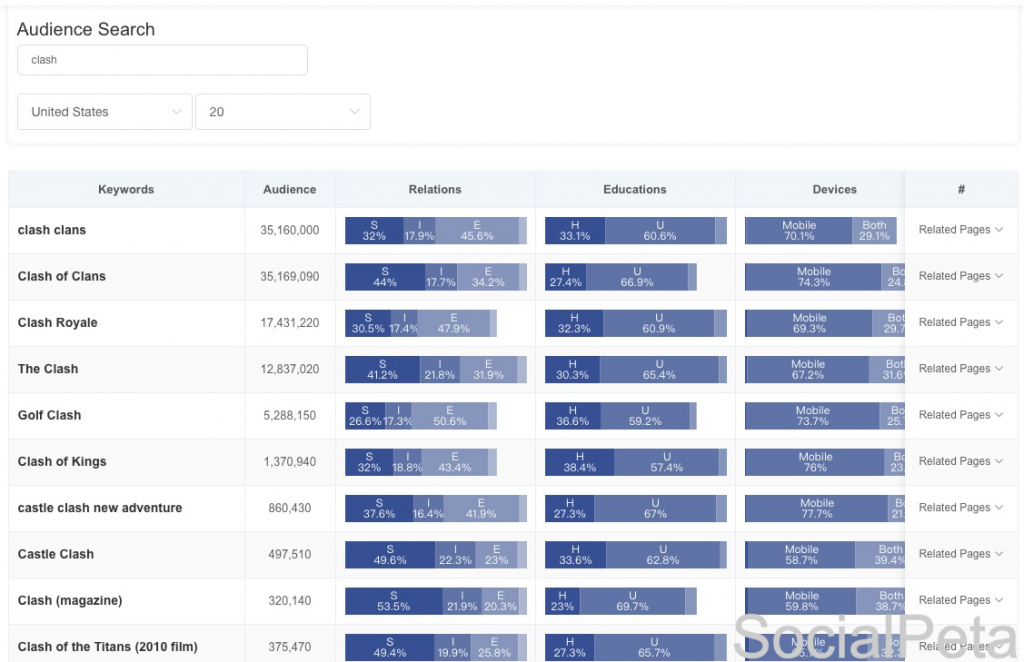 Advantages of SocialPeta in brand intelligence solutions:
1. Successful cooperation brand
As a VIP product, SocialPeta has been established for six years and has served tens of thousands of medium and large enterprises and provided them with excellent brand services.
2. The amount of data in the creative is large
SocialPeta starts from the material and gradually develops more other functions. Material is our consistent advantage, so if you want to get excellent creative material, SocialPeta must not miss it.
3. Competitor brand intelligence
SocialPeta's competitive intelligence has always been our core advantage. SocialPeta's big data capabilities have been improving. We are not only strong in material analysis, but also in advertising costs. The analysis of advertising audiences and advertisers is a service purchased by many customers. These services lay a solid foundation for the analysis of competitors.
The above is the best brand intelligence solution provided by SocialPeta, which serves medium and large enterprises, especially in e-commerce and game markets.