Top 10 Game Ad Networks: The Most Promising Collection Of 2020
Affected by the spread of the global virus, the game market in 2020 will usher in a wave of explosive growth. This is also a critical moment for major games to quickly capture the market. The game promotion process is complicated and difficult. How to choose the most suitable game advertising network? Let's take a look at the 10 best game ad networks in 2020 from SocialPeta!
10 network introductions for advertising games:
1. Facebook:
Facebook Network Introduction:
In the choice of game promotion channels, Facebook must be the first choice for various game brands. Because Facebook, as the number one social channel, has users of all ages, and it can also achieve accurate crowd delivery and multiple electronic devices simultaneously. Facebook is the first choice for users to socialize. Games are an important activity for leisure and entertainment. Users will try a recommended game that appears in the Facebook information stream. Facebook is well-known, has enough audiences, and has a complete advertising system. It is the preferred advertising network platform for game companies.
Faecbook Channel Game Ad Analysis:
According to SocialPeta statistics, Facebook's top 5 game types in the last 30 days are: Role-Playing, Puzzle, Strategy, Entertainment, Simulation. Among them, Puzzle games have shown an upward trend in the proportion of games in the last 30 days, accounting for 18.42% of the entire game advertising.

Country distribution and trend comparison of Facebook advertising network platforms:
In the last 30 days, the top 5 countries where ads are shown are: United States, United Kingdom, Canada, Australia, and Germany. Among them, the United States is the country with more display of game advertisements, accounting for the highest proportion of 14.73%.
If your game market is mainly in European and American countries, then Facebook is the main game advertising network that cannot be missed.

Facebook Game Ad Success Case:
The most popular game on Facebook in the last 30 days is: Coloring Book-Color by Number & Paint by Number. This is a casual puzzle game to color pictures. Advertisers of this game's ad placement countries are mainly in the United States and Canada. In the past 60 days, it has placed more than 5,000 ad creatives on Facebook. The ad creative formats are mainly video. This month, it is the top 1 game app.
2. Facebook Audience Network:
Audience Network Introduction:
Facebook Audience Network is the preferred channel for affiliate advertising. Audience Network breaks the traditional advertising format and proposes the concept of personalized advertising. Audience Network locates users through interest, reduces the interference of advertisements to users, and also improves the conversion and interaction of advertisements. And Audience Network proposes playable advertising, which helps users to try advertising before installing the game APP. This is an innovative experiment and also greatly enhances the user's experience of game advertising.
SocialPeta has separately organized the creative ideas of the trial ads for each ad. Advertisers who do not know about the demo ads can find out.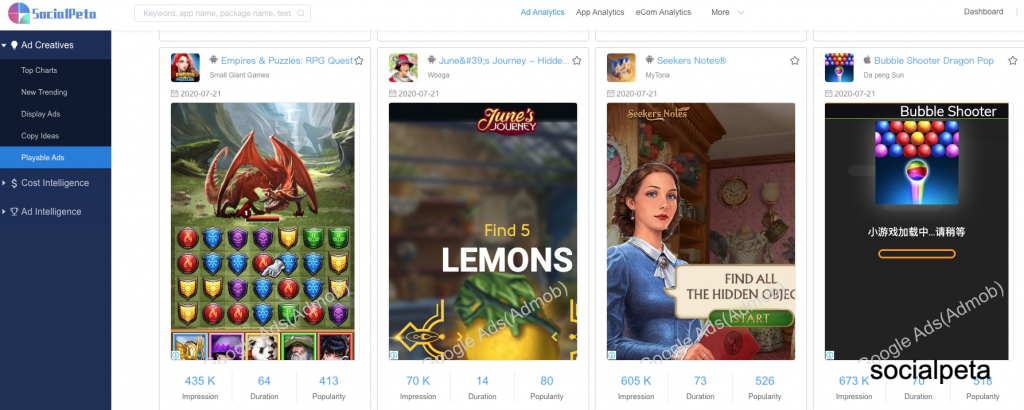 Audience Network Channel Game Ad Analysis:
In Audience Network, the five ad categories with the most exposure are: Role-Playing, Puzzle, Arcade, Entertainment, Strategy.
According to SocialPeta statistics, in one day, Role-Playing games received a total of 81,519,646 impressions, accounting for 19.51% of the total game impressions.
When each game APP advertises on Audience Network, the United States ranks first, accounting for 13.79% of the main countries, and the United Kingdom ranks second, accounting for 9%.

3. Instagram:
Instagram Network Introduction:
Instagram is a social application software owned by Facebook that provides free online photo and video sharing. Instagram and video games have a lot in common, from the audience seeking visual effects to the target age group.
For example: The average age of gamers in the United States is 33 years old. US Instagram users are 25-34 years old. For game marketers, this platform is a wonderful choice.
Instagram channel Game Ad Analysis:
The two most popular categories of games on Instagram are Role-Playing and Puzzle, and their proportions are not much different.

According to SocialPeta statistics, from the perspective of changes in the countries where Instagram puts game ads, the top 5 countries in the last 6 months have been the United States, the United Kingdom, Canada, Australia, and Germany. In addition, from the picture, we can see that the proportion of game ads in the United States and Australia has increased sharply since mid-May, and then leveled off in mid-July. The proportion of game ads in other countries declined slightly.
It shows that the game advertising population of the Instagram channel is mainly concentrated in the United States and the United Kingdom.

4. Google Ads(Admob)
Admob Network introduction:
AdMob is a mobile advertising company founded in 2006. AdMob is a must-have option for many game advertisers' promotion channels. Because AdMob is more compatible with game advertisements, it specifically introduces a variety of ad formats for games, such as reward video ads, trial ads, slogans, and interstitial ads.
And AdMob also has different advertising optimization methods for different types of ads. For example, casual games usually use both IAP and advertising funding models. Take advantage of AdMob's many tools that can help you choose the type of ad that best suits your player.
Admob channel Game Ad Analysis:
Puzzle and Entertainment are the two most popular game ads for users.

AdMob's game launch countries tend to be very obvious, mainly concentrated in four countries. The four countries are: the United States, Australia, Canada, and the United Kingdom. The proportions of these four countries are equal, about 15%, and the total traffic of these four countries accounted for 60%.

5. Twitter:
Twitter Network introduction:
Twitter is a place for game conversations and connections. 2019 is a time for game fans to revel. In 2019, there were more than 1.2 billion tweets about games on Twitter, a year-on-year increase of nearly 20%.
Game fans all over the world come to Twitter to talk about the most important moments of the year. Because of the popularity of game discussions on Twitter, Twitter is also a good advertising platform for dramas. The most discussed game on Twitter in 2019 is "Fate/Grand Order", and Twitter is very popular in Asian countries such as Japan, South Korea, and Thailand.
Twitter channel Game Ad Analysis:
On Twitter, Role-Playing games have the most ads, accounting for 55% of the entire game market.
Twitter's game country market division is also obvious, Twitter's influence in Asian countries is deeper and wider, especially Japan. Among the countries where game ads are posted on Twitter, Japan occupies 70% of the market at its highest.
on Twitter, putting Role-Playing games in Japan is a smart way.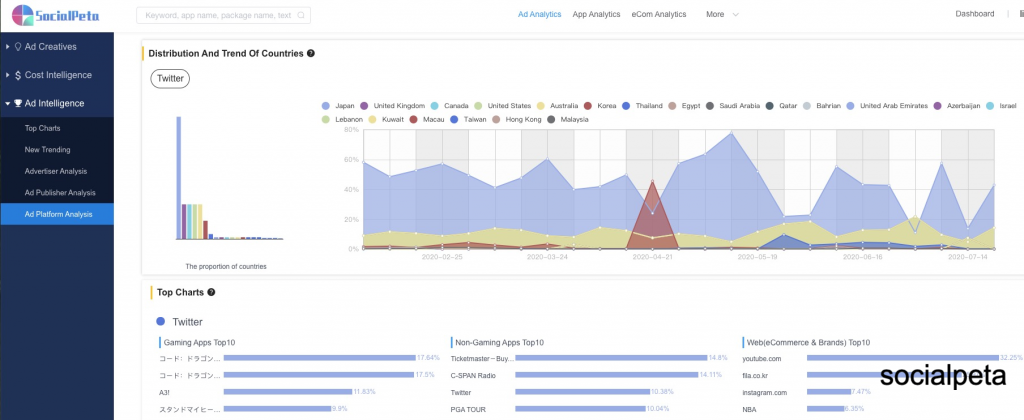 6. Unity Ads:
Unity Network introduction:
Unity was originally a game development engine, and has now become a comprehensive authoring tool. Unity still has an important role in the game field, because it can natively integrate relevant advertising into the game experience to increase revenue. And Unity helps advertisers understand when, where, and how to use ads in games, ensuring that you show appropriate ads to the appropriate people.
Unity is a vertical game advertising platform. Unity's advertising platform has professional advantages, because Unity has a unified advertising bidding promise to bring developers the best revenue. Advertising formats include rewarded videos, banner ads, interstitial ads, rich media ads, demo ads, and even AR. It can also advertise across platforms, including a total of 90 cooperative advertising partners.
Unity channel Game Ad Analysis:
Puzzle, Arcade, and Entertainment games are the three most common game categories on Unity. In addition, the proportion of Unity's game advertising countries is relatively balanced, and the proportion of users in each country is not much different, and the proportion of most advertising countries is hovering around 5%.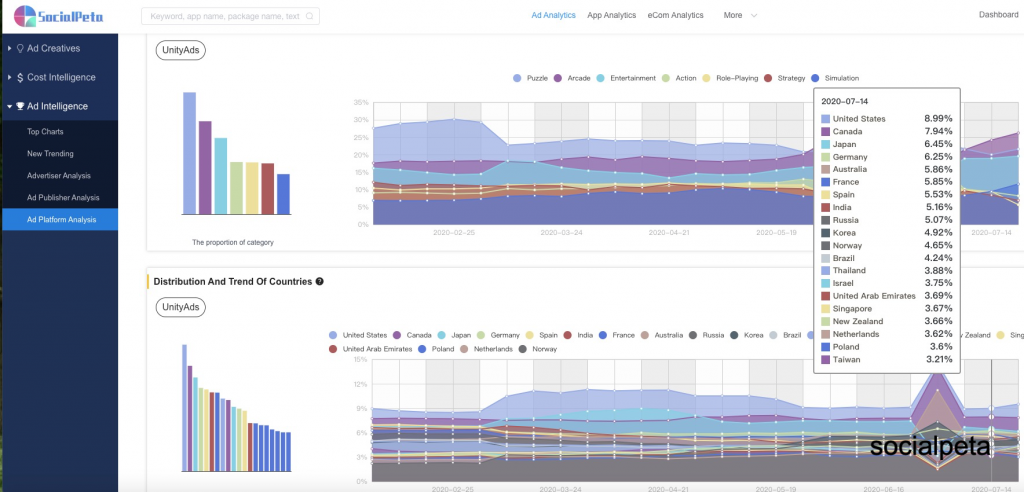 7. Chartboost:
Chartboost Network introduction:
Chartboost is a vertical game advertising platform. Chartboost is an advertising platform for mobile game applications. The Chartboost SDK helps developers build better mobile applications and at the same time place ads on ads for applications using Chartboost worldwide. Chartboost's platform allows video game developers to create customized interstitial and video ads to promote new games.
Chartboost is not just a game advertising platform, it also helps game developers develop better game apps. Game developers use the Chartboost mobile platform to design custom interstitial ads and video ads, build user bases, generate revenue, negotiate business transactions with other developers, and track and analyze sales and promotion data.
Chartboost channel Game Ad Analysis:
The 3 most popular games on Chartboost are Puzzle, Entertainment, and Arcade. And Entertainment game ads are rising rapidly.
Analysis of Chartboost Advertising's Country Proportion: The United States is the main country for advertising, accounting for more than 30%. In addition, the proportion of Asian countries such as South Korea, Japan, and Taiwan is also relatively high.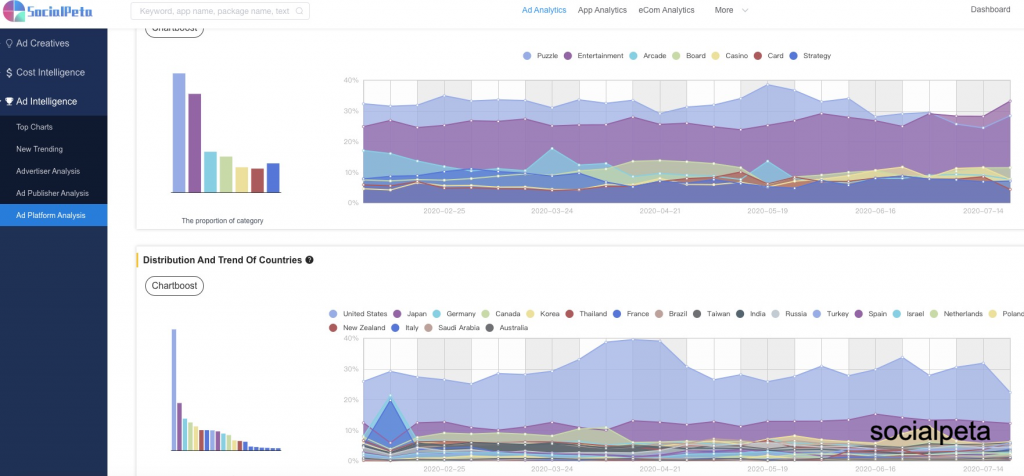 8. Vungle
Vungle Network introduction:
Vungle is a well-known mobile video advertising platform worldwide. Vungle attaches great importance to advertising creativity, it provides a variety of advertising creativity, which is very important for the conversion of game advertising. Vungle can embed video ads in the best platform for applications. Its breakthrough video ad serving technology and user-first principles have enabled the company to successfully help game developers gain more profits. According to statistics, Vungle cooperates with more than 12,000 top apps, serves more than 190 countries, and has an average monthly video view of more than 2 billion.
Vungle channel Game Ad Analysis:
The three most popular categories of ads on Vungle are: Puzzle, Entertainment, and Arcade. Among them, Arcade games have grown rapidly in the last 2 months, and now they have become the top 1 game category.

Vungle's recent game advertising exposure in Japan has grown rapidly, accounting for 50% of the world's game market exposure.

9. Applovin
Applovin Network introduction:
Applovin is a vertical game advertising promotion network platform. Applovin's goal is to provide global users with the highest quality mobile gaming entertainment experience.
AppLovin has promoted a number of global hottest games, and their monetization technology ensures that developers maximize revenue and gain more new users. AppLovin ranks third in the game power ranking for three consecutive times. It has become the best game application advertising platform besides Facebook and Google, and its market share in the field of game application installations has grown gratifyingly.
Applovin Network Game Ad Analysis:
The three ad types with the most exposure on Applovin are: Arcade, Puzzle, and Entertainment. Their average proportion is more than 20%.
From the third-party statistics provided by SocialPeta, we can see that Applovin's country distribution is very even, and the proportions of each country are not much different. In addition, it was pointed out from the report issued in 2017 that China is the fastest-growing country on the AppLovin platform except for the United States.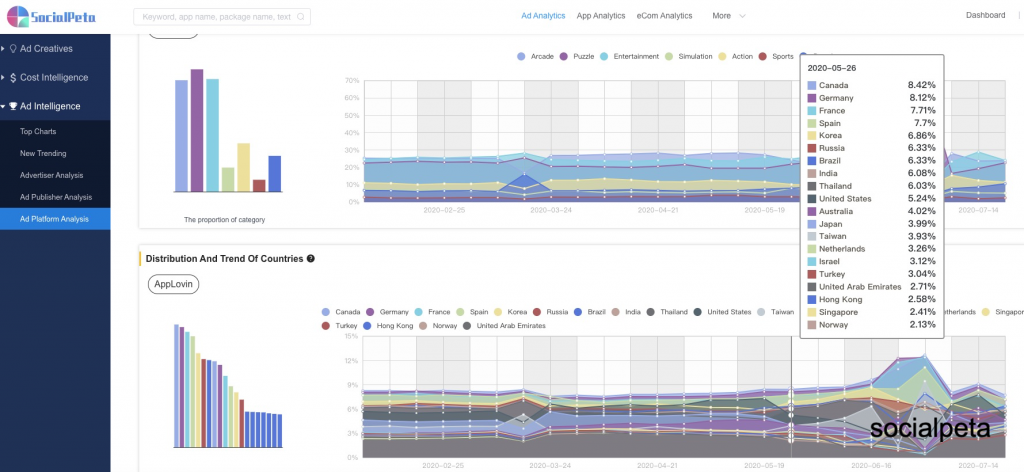 10. AdColony
AdColony Network introduction:
Founded in 2011, AdColony was created for mobile developers and has grown into one of the world's largest mobile advertising and monetization platforms, with more than 1.5 billion users worldwide. AdColony is known for its exclusive Instant-Play™ HD video, Aurora™ HD Interactive video and playable technology, its global performance advertising expertise, its programmatic market, and its extensive advertising SDK footprint in the world's top apps.
As a video advertising platform established in 2011, AdColony helps developers maximize their monetization potential. Among them, in the game field, AdColony service providers include Tencent, NetEase, FunPlus, Oasis Games, and Youzu Networks.
AdColony channel Game Ad Analysis:
The five most popular game types on AdColony are Entertainment, Simulation, Casino, Strategy, and Role-Playing. Among them, Simulation games have grown rapidly in the last 2 months.

The main countries where game ads on AdColony are placed are the United States, Canada, Australia, and the United Kingdom. They each account for about 20% of the game put on the market. Among them, the UK started to reduce the launch of games in June, while the launch of games in other countries was stable.

From the above game advertising network, we can see that different game types and different countries need to choose different channels. Advertisers choose the appropriate advertising network platform to test according to the country and the game category corresponding to the game. Of course, only 10 commonly used effective game advertising network platforms are listed here. You can also find more game network platforms and more comprehensive game advertising data from SocialPeta.