Black Friday Ad 2020 | Advertising Marketing Strategy
Black Friday is coming soon, are you fully prepared?
Black Friday is a festival dedicated to shopping spree. Many businesses use Black Friday to do a good job of advertising and marketing to gain extremely high popularity, brand effects and revenue. Are you ready to seize this opportunity to do a good job in advertising and marketing to get a lot of revenue?
Next, I will introduce to you what aspects should be paid attention to in the advertising and marketing of Black Friday 2020:
Monitor Black Friday ads on social media
Compared with the past, the Black Friday advertisements in 2020 have chosen to be placed on various social media platforms at most. Even if there is still a period of time, all major social media have started the pre-heated advertising and marketing activities of the Black Friday in advance. This is undoubtedly a very effective promotion model. Many large businesses use this method to attract large-scale traffic on the eve of Black Friday, and we need to know which businesses have placed Black Friday advertisements on social media to judge. The other party's Black Friday advertising marketing strategy.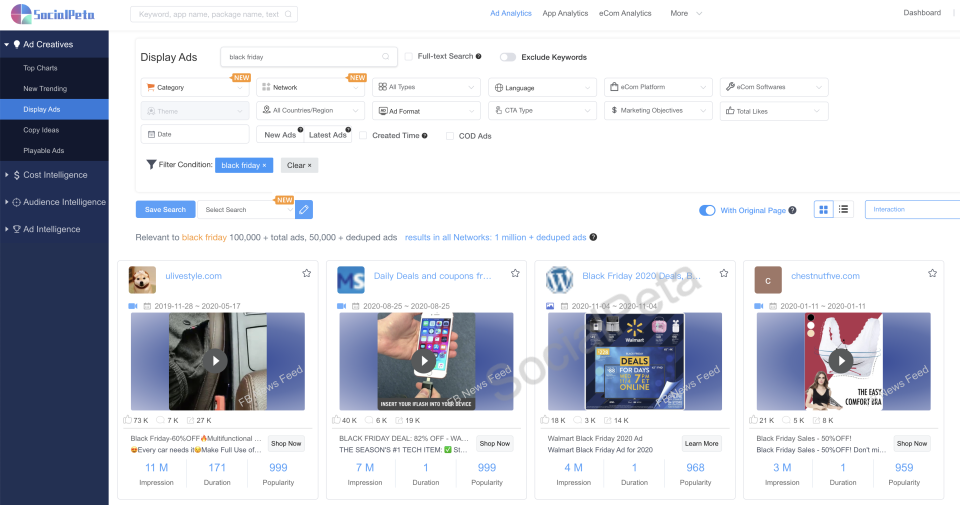 Using SocialPeta, we can view the Black Friday ads on 73 social media channels at the same time, of which we can find that most of them are well-known businesses. At the same time, we can also analyze the advertising copy and creativity, and study the trend of Black Friday advertising in 2020.
Through SocialPeta's Black Friday ad search, we can get that almost all Black Friday ads in 2020 will be placed on Facebook, which is mainly promoted by means of video advertising marketing. Preparation → video promotion → software push → website marketing.
Search for Black Friday information and product information on large shopping websites
Next, we can further analyze the Black Friday advertising marketing of shopping websites. It is now at the hottest stage of Black Friday promotion, and all shopping platforms have pushed Black Friday information. Black Friday is not only the marketing of major brands, but also an opportunity for small businesses! By seizing this annual opportunity, everyone can make a fortune.
Take the world's largest shopping website-Amazon as an example. As a global shopping website, Amazon made the 2020 Black Friday list and carried out corresponding advertising promotion in the first time: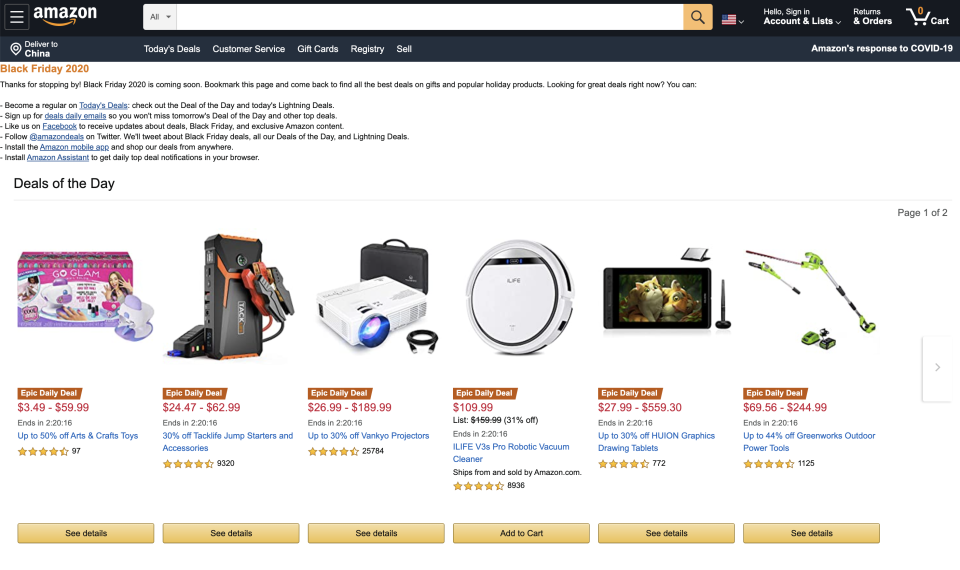 Amazon updates product information and special offers on the Black Friday Information page daily to ensure that buyers and sellers can obtain Black Friday advertising information in a timely manner. Similarly, we can also use SocialPeta to select Amazon in eCom analysics, enter the keyword "black Friday" for product search, and we can find more precise product information: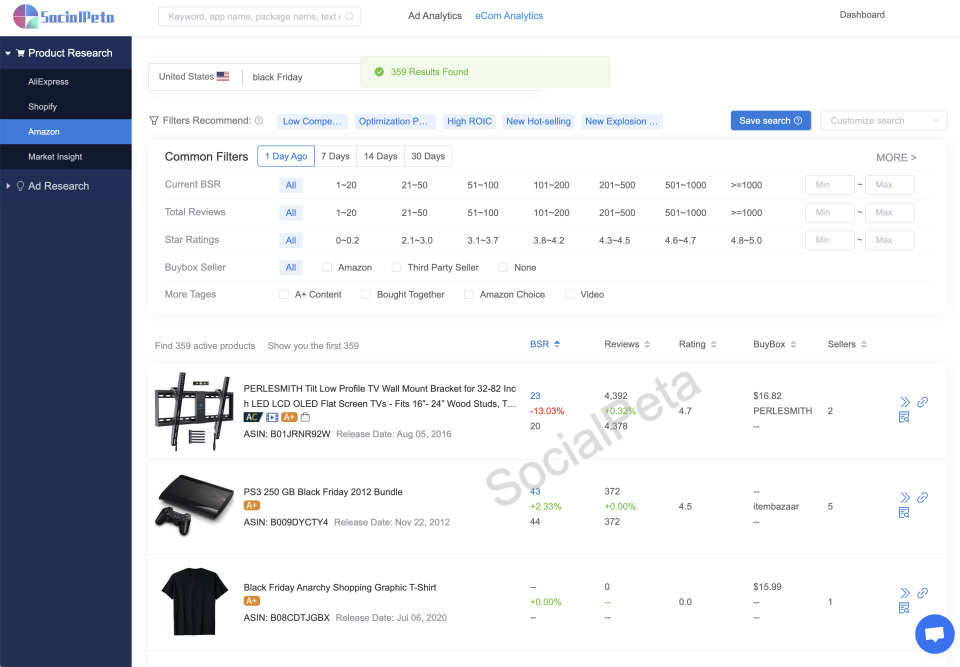 We can filter BSR, reviews, rating, Buybox, etc. according to the needs, and customize the Black Friday product information you want to see. The Black Friday advertising information on major websites is overwhelming, and the filtering system of SocialPeta can be used to better target the details of the Black Friday product information on Amazon, Shopify, and Aliexpress.
The impact of COVID-19 on Black Friday
2020 is a year full of COVID-19. This epidemic has caused a lot of impact on all walks of life. The only one that can be called a positive impact is the e-commerce industry. COVID-19 has made people realize the importance of the existence of eCom platforms and has greatly increased the industry's global influence.
However, the impact of COVID-19 on the Black Friday is negative. At the beginning of 2020, in the early stage of the outbreak, the e-commerce industry has caused great damage, and the large-scale unsale of goods has caused many products to be dealt with in discounts and clearances. However, in just three months, the volume of merchandise sales and sales have turned up sharply, and the e-commerce industry has become the biggest gainer in this epidemic.
However, due to the initial slow sales, the prices of commodities have fallen sharply, which has reduced buyers' expectations for the Black Friday. The price of the Black Friday cannot be reduced to the low price in the early stage of the epidemic, and they can only choose to introduce new ideas. Therefore, most brands have abandoned the price war of the original old-brand products, but have prepared a large number of new products for sales activities.
In addition, many websites have issued statements to donate a large amount of anti-epidemic materials to jointly fight COVID-19, and hope that the world can tide over the difficulties as soon as possible!
How to optimize the advertising and marketing strategy of Black Friday
By tracking Black Friday advertisements on social media, finding Black Friday information on e-commerce platforms, and considering the impact of COVID-19 on Black Friday, we can derive the entire Black Friday market dynamics and advertising marketing strategies. Now that the Black Friday is getting closer and closer, how can we use this content to optimize our Black Friday advertising marketing strategy?
1. Determine the target audience
Black Friday advertising marketing is similar to most product advertising marketing, the first thing is to determine the target audience. We can analyze the audience based on the keywords of the product, and the precise target audience can help us obtain better traffic conversion effects, and use less budget for better advertising and marketing effects.
Many people know that in any shopping spree, women have higher purchasing power than men, so how much higher is it? What other audience filtering conditions are included? I used "Black Friday" as a key word and searched for two audience reports, one on Facebook and one on Google, and came to an unexpected and reasonable conclusion: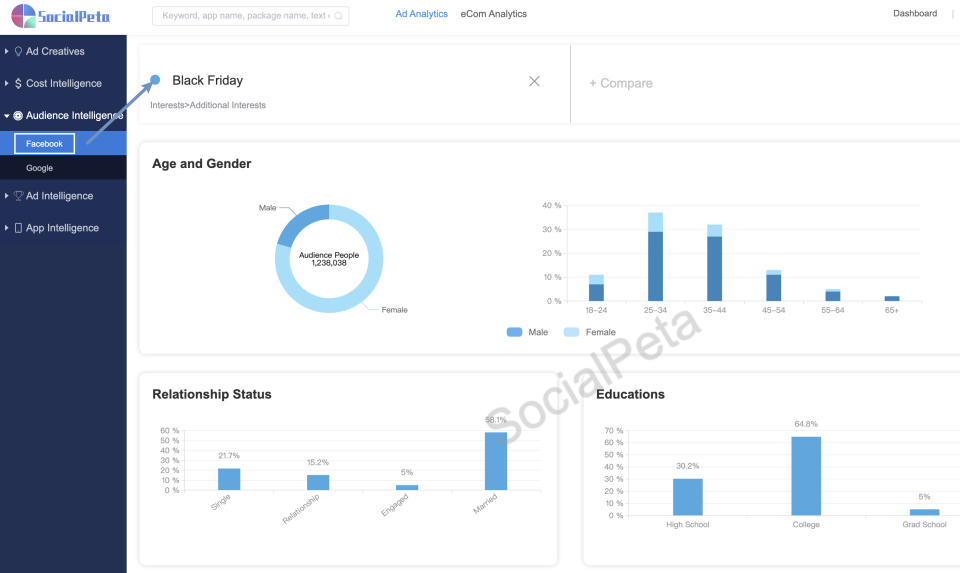 It can be seen that in the "Black Friday" Facebook audience report, women accounted for an absolute advantage over men. Women's purchasing power will not miss any shopping opportunity, mainly married women aged 25-44. Mainly. In addition to the existing data in the figure, the report also displays device information. Among them, most of the display devices for this keyword are iOS systems, mainly iPad and iPhone, accounting for more than 95%. The audience area is limited by Facebook's main audience, 76.7% are concentrated in the United States.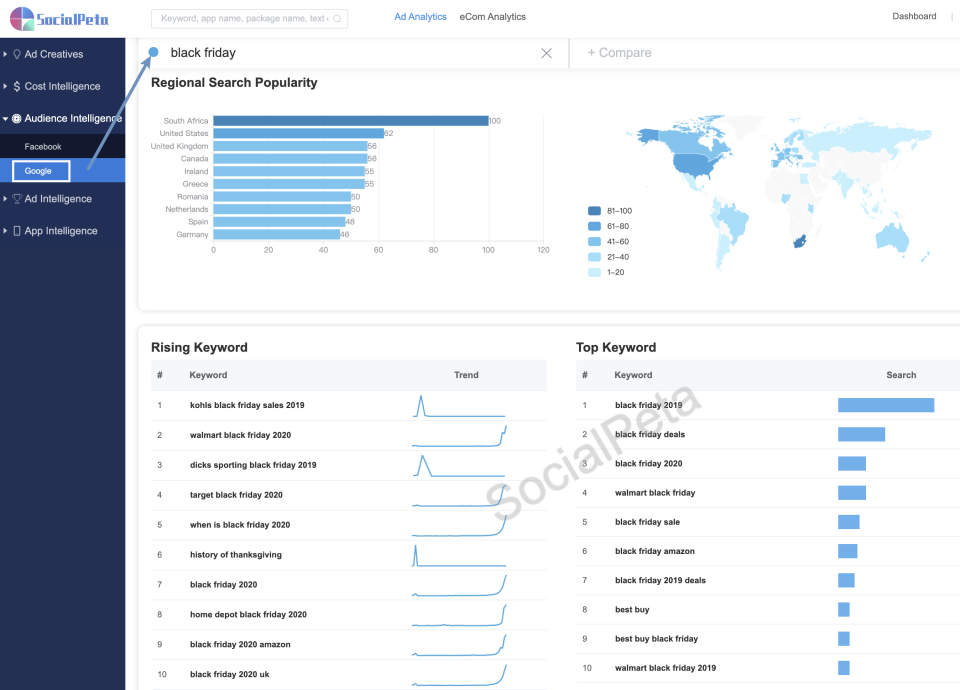 The Google audience report of "black Friday" is more globalized, with the exception of South Africa's more prominent search volume, and almost the same in other countries. The search volume for "black Friday 2020" is also on the rise, and it is about to usher in the highest wave of Black Friday.
Therefore, when customizing and optimizing our Black Friday advertising marketing strategy, we need to focus on the purchasing power and purchasing needs of female married groups, and make creative advertising more attractive to the conversion of this part of the audience. Instead, we do not need to pay attention to the placement area. many.
2. Abandon the price war
As mentioned above, at the beginning of the epidemic, prices were once lowered, and the price of the Black Friday could not break through the low price at the beginning of the year. As a result, a large number of buyers' enthusiasm for participating in the Black Friday was lost. Therefore, the first thing we have to do when doing Black Friday advertising marketing is to break free of price constraints. Of course, the price should also be lower than the usual original price, or highlight gifts. Many brands do not focus on low prices when doing Black Friday advertising marketing, but new products and gifts.
This advertising marketing strategy captures the psychology of female buyers. Female buyers are often too interested in exquisite packaging and gifts, and some female buyers even make impulse consumption because of a certain exquisite gift. This is a very effective advertising and marketing strategy. From a sales perspective, it is no different from bundling sales, but it is very popular from the perspective of female buyers. It is a Black Friday advertising and marketing strategy that deserves more attention.
3.Conduct video ads marketing promotion
Through the monitor of Black Friday ads, we can find that Black Friday ads with higher popularity and display volume are mostly promoted in the form of videos. Borrowing this advertising marketing strategy, we should also use video advertising as the main part of the advertising marketing strategy.
Most of the Black Friday video ads are very delicately produced, using exquisite picture carousels or ingenious plots to attract audiences, or simple text impact and brand effects to attract attention.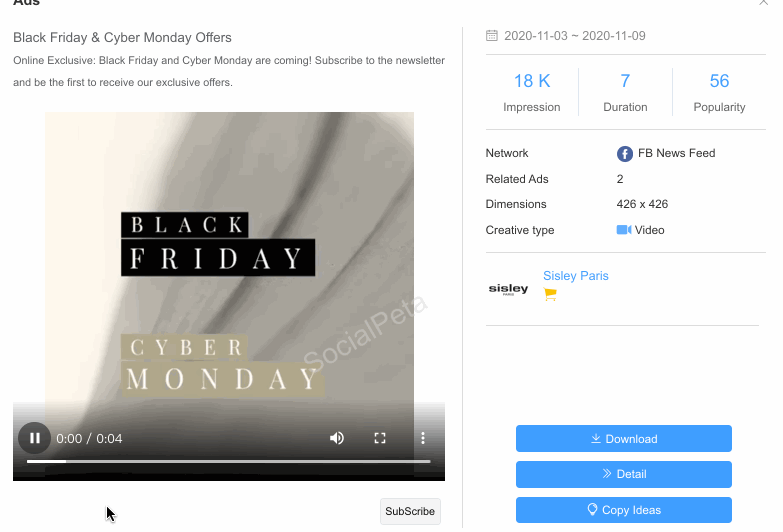 This is a Sisley video ad. It is a typical product picture carousel video ad. It has a short delivery time, high popularity, and a large number of ads to create a brand effect. The color scheme is simple and the products are independent of each other, so that the audience knows that it is an ad for skin care products at a glance, creating a high-end brand effect.
Most of the Black Friday merchants are relatively well-known brands in the industry, and the selected video advertising marketing strategies are basically the same. Due to the impact of COVID-19 this year, they will not focus on low prices but build high-end lines. Video The sophistication and style are very important. If some niche brands want to stand out from the many advertisements of Black Friday, they must spend more time on video promotion and strive to capture the audience's attention.
4.Choose the right advertising channel
Due to the special circumstances of 2020, the influence of Black Friday is not very prominent. Many people in their busy lives have forgotten this grand shopping carnival in previous years. The number of ads has also dropped a lot compared to previous years, and the main channel of investment has unanimously chosen Facebook.
This is a very wise choice. After all, black Friday is a holiday that originated in the United States. Of course, Americans pay more attention to it. Compared with previous years, the marketing of the Black Friday advertising on YouTube this year has dropped a lot, and the atmosphere of the coming Black Friday is almost invisible on YouTube. However, this is also within the normal range. After all, in the emerging era of short videos, YouTube users are continuing to lose, and most users are robbed by Tik Tok. The reduction of YouTube's Black Friday advertising marketing is also out of the consideration of saving unnecessary expenses.
But surprisingly, the number of Tik Tok and Instagram Black Friday ads being voted is also much lower than the number of Facebook ads. Of course, putting on Facebook is the lowest risk advertising marketing strategy. But as an emerging popular social media channel, I don't think advertisers should let go of these two popular channels, Instagram and Tik Tok.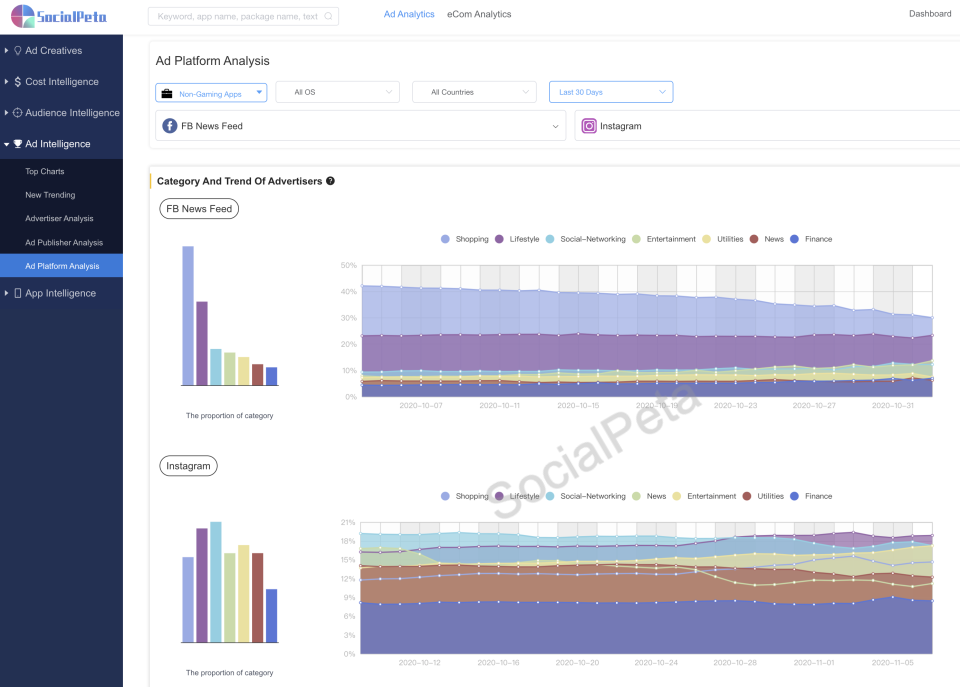 The number of shopping ads on Instagram is very low, but it is difficult to say that a low number will have no effect. We can try to put ads on these emerging social media, and there may be better traffic monetization.
Of course, through market research, we found that the main conversions of shopping ads are concentrated on the source of the App's advertising space. Many apps have advertising spots, some are fixed advertising spots, some require waiting time to jump, and there are even many false close buttons to guide user behavior conversion, but no matter which kind, it can be proved that Black Friday advertising is used This marketing model is very effective for promotion.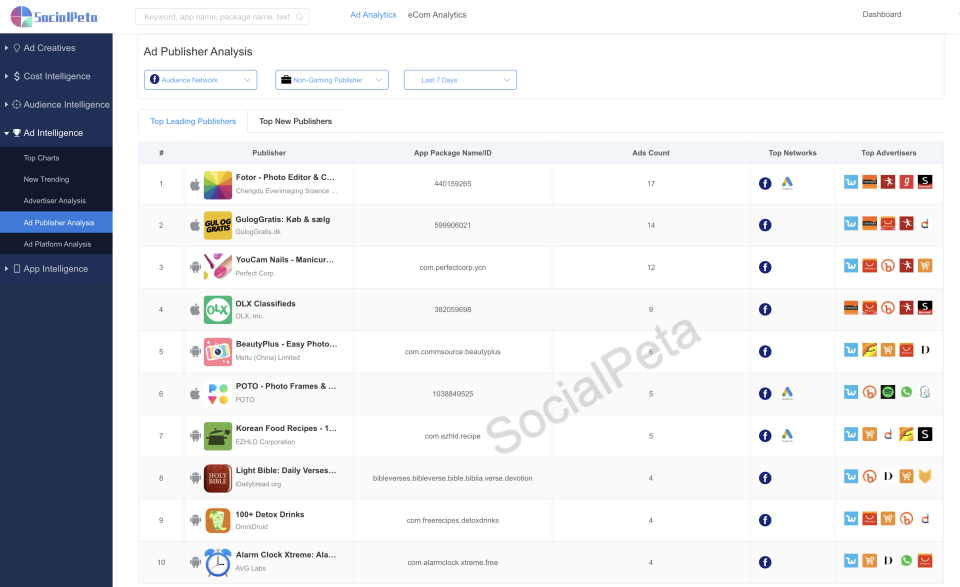 These are some in-app advertising spots suitable for Black Friday advertising. Compared with social media platform advertising, they have great advantages, such as: guiding user behavior conversion and low prices. Many users of the Black Friday ads on social media platforms slipped away after seeing them. They can only get a lot of impressions, and the conversion ratio is very low. Of course, the conversion rate of in-app advertising and marketing is high, but the presentation must not be as high as Facebook.
The most comprehensive Black Friday advertising marketing strategy is a two-pronged approach, placing both social media platforms and in-app ads to attract traffic and guide conversions.
Black Friday has been less than half a month, and advertising and marketing are imminent. If you are still worried about how to maximize the effect during the last few days, I hope this article can help you. SocialPeta wishes you good results on Black Friday!