Famous Brands and Functions Are Leading E-Commerce Advertising Traffic in 2020
The year 2019 has passed and a new chapter has unfolded in 2020. After the intense Holiday Season, how will the e-commerce advertising market go? We have observed through the advertising marketing spy tool SocialPeta's data that the e-commerce advertising market is highlighting famous brands and functions in early 2020. Let's take a look at the details.
Summary
Electronics – Domination of famous brands and higher conversion in smaller categories
Clothing – Reliance on platforms and aid of brands
In view of the amount of ad creative and impression of various types of advertisers in the e-commerce industry over the past 30 days, we have the following understandings:
1. Lenovo, Samsung, etc. dominate the Top New Advertisers charts of Electronics
According to SocialPeta's recent 30-day data on the Top New Advertisers charts, the top brands in the electronics category are mostly what we are familiar with, including Lenovo, Samsung, Huawei, reBuy, HP, and Screen Guards.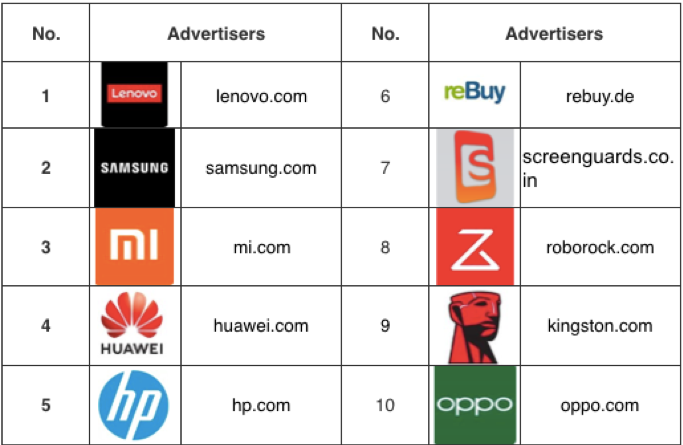 Well-known and well-funded, these brands are running a rich variety of creative ads with Twitter, Instagram, Audience Network, and Facebook as the main networks. In creative production, most of the ads are dynamic, directed at young people, themed by keeping company and improving the quality of life.
As a leader in electronics brands, Samsung, as always, is placing a lot of ads after the holiday, covering a wide range of smart electronic products under the slogan "Quality Life for You". Creative types like carousel ads and images mainly showcase product features, such as ultrabooks, 5G phones, Galaxy Fold, etc. In fact, electronic products always have young people targeted as the primary audience. Of ad creative, video ads have a brighter color and a faster pace, and the protagonists are also younger, conveying to us the convenience, technology, taste, and fashion of Samsung products.
In SocialPeta's Top New Ads charts, we see a nice performance in early 2020 in advertising conversion of phone accessories including USB cables, tempered glass screen protectors, wireless headsets, and portable power supplies. This is due to the rapid updating of phones, the enlarged number of phones per capita, and fierce competition in the mobile accessories market.
We searched for USB cables-related ad creative and found more than 10,000 pieces over the past 30 days. Most of these creatives rely on the websites where related products are sold like Alibaba and Amazon to run ads, or directly use Facebook, Audience Network and Instagram as the advertising networks.
2. Clothing products rely on shopping websites for spray-and-pray marketing
While the electronics category has famous brands in the Top New Advertisers charts, the hot-selling clothing category mainly relies on shopping websites and brands, such as Wildberries, ZAFUL, UNIQLO and SHEIN, for the purpose of post-holiday advertising. The proportion of shopping websites is higher, which is because clothing products have a lower cost yet a richer variety than electronic products.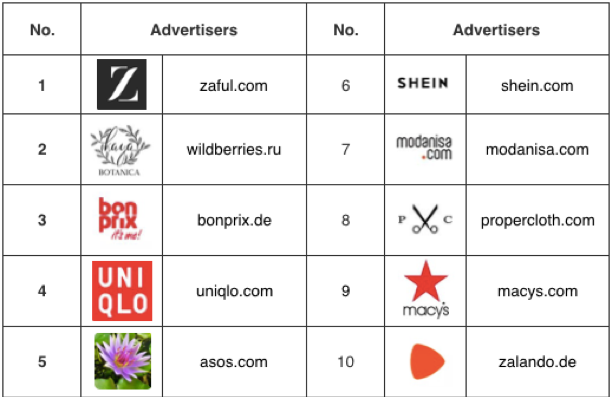 The advertising of clothing products is mainly based on carousel ads and images. A group of ad creatives are contained in one carousel ad, so that the product can be better displayed through multiple images in one ad. The main advertising networks include Instagram, Pinterest, Audience Network, and Facebook, which are social networking sites that feature sharing photos. In ad copy during this period of time, words like "discount", "sale" and "off" appear frequently.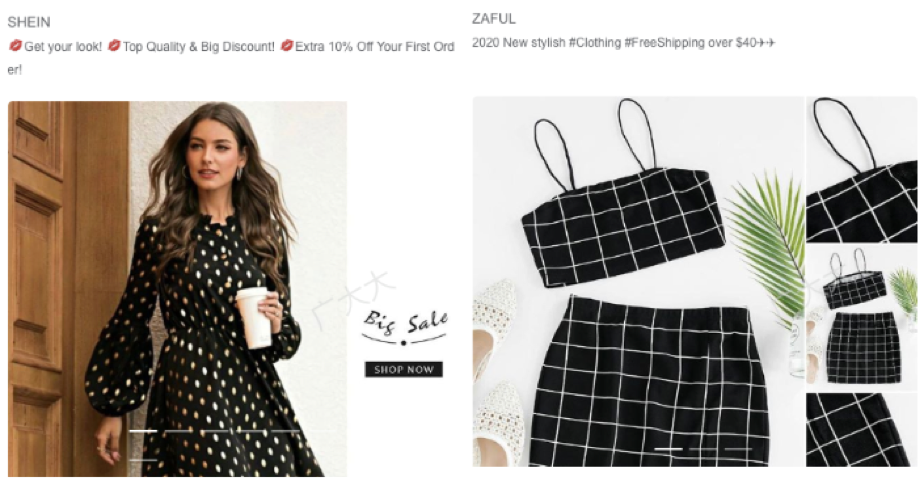 In early 2020, the advertising of famous brands in the smartphones and computers-led electronics category is the strongest, and the advertising conversion of the corresponding accessories is also good. The clothing category is mainly driven by the advertising of shopping websites that offer a rich variety of products. In addition to creating brand effects, it is also important in advertising to show people the advantages of your products through the right network in the right fashion to achieve sales growth.