Advertising Performance of Casual Games' Creatives in Early 2020
Casual games gaining momentum, Facebook series being indispensable
At the beginning of 2020, a number of game advertisers are emerging and moving to a new stage for the past 30 days, according to the advertising marketing spy tool SocialPeta. We classified games updated on Top Advertiser and found puzzle ones dominating the charts while strategy and role-playing games also occupying a considerable proportion. But overall, in early 2020, casual games are still a major competitor in the game market, gaining strong advertising momentum.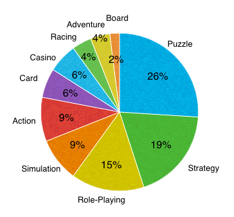 We summarized the main advertising channels of casual games on New Advertiser. When they were first released, these casual games would prefer channels like Audience Network, Facebook, Google Adwords, and Instagram. For example, Zombie Coloring – Color by Numbers & Art Books, a December release, mainly chose three channels: Facebook, Audience Network, and Instagram. However, in terms of data, many advertisers would run ads in three channels of the Facebook series at one time.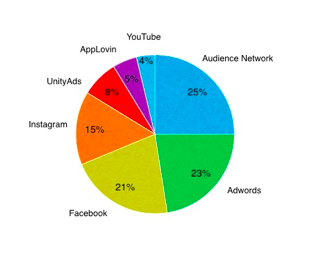 Brain Out challenging the mind, Epic Race 3D quality-assured
Casual games are popular with players due to relaxing gameplay and fragmented gaming experience. The top grossing list always has a few casual games on it. Brain Out, which was launched in October 2019, became the most downloaded mobile game around the globe in December of the year. Epic Race 3D, a worthy release of Good Job Games, topped the free list many times when it was first released.
Brain Out adopts a Q&A mechanism requiring players to choose the correct answer according to the requirements or hints of the question. To pass it, players must think differently. The game tests divergent thinking. According to SocialPeta, Brain Out's ad creatives are mainly videos that are more advertised on Facebook at the early stage and later on TikTok. With users mostly at the age of 18-35, advertising videos show the quintessence of the game primarily through intuitive gameplay, and seeing such ads make people attracted to the mind-challenging gameplay and want to download the game.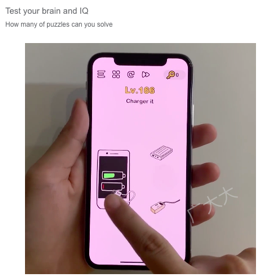 Epic Race 3D topped the App Store free list in the United States as soon as it came out, continuing the Run Race 3D and Fun Race 3D gameplay, adding new scenes and new elements to bring a more exciting parkour experience. At present, the game is new and advertising creatives are insufficient, but a Good Job Games release is much anticipated. The current advertising is mainly in forms of video and HTML with Google Adwords, UnityAds and ironSource as channels. Game screen recordings dominate the creative contents, and the words "fast", "avoid", "obstacles" and "harder" appear frequently in the creative copy-writings.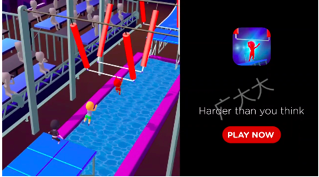 Which ones of these casual games will become dark horses in 2020? Let's look forward to every well-produced game. In advertising, apart from the appropriate channels, efforts in ad creatives should also be made. For games with novel gameplay and of assured quality, their own gameplay and quality tend to be highlighted in ad creatives.