Grossing over $10 million a month, hyper-casual music games overcome sky-high copyright fees
Have you played music games before?
Music games in the past are like the following: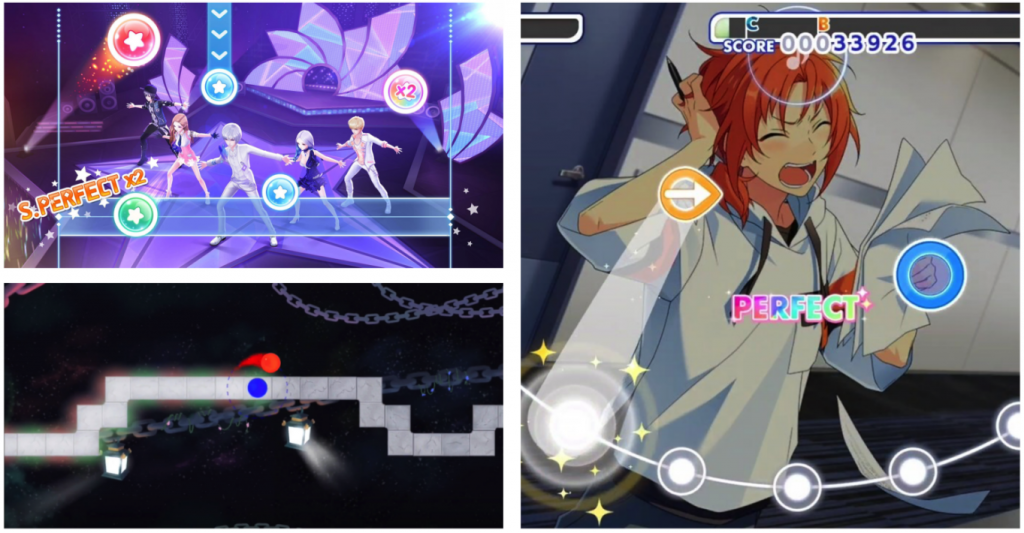 Now, the globally most downloaded music games are like the following: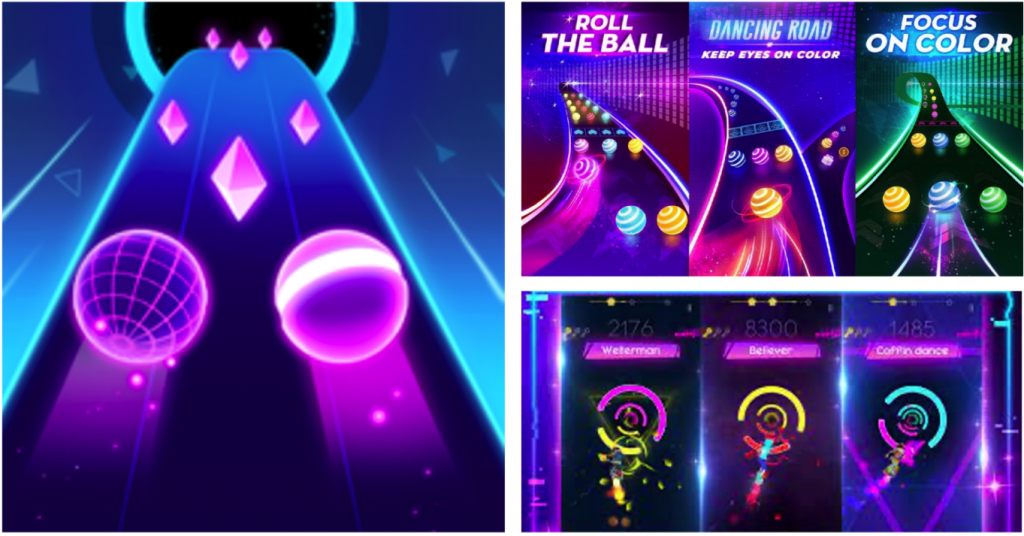 Due to the sky-high music copyright fees hanging over like the sword of Damocles, hyper-casual music games and traditional music games all have to compromise. Southeastern companies and Chinese companies found their different ways of coping with it.
In the following, SocialPeta will discuss how to break down the music game industry barrier by using gameplays and ad creatives.
Ⅰ. Light of Vietnam: How do top music game companies develop games
Dancing balls and shifting colors
Advertiser: [Dancing Road: Color Ball Run!]
Publisher: Amanotes
Features: music rhythm + rolling balls + collecting items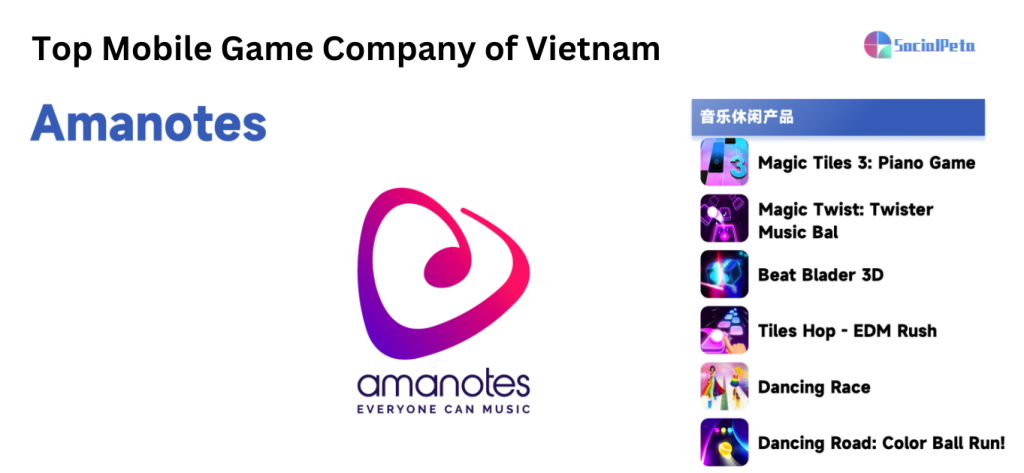 The Vietnamese company Amanotes is one of the most successful mobile game studios as far as hyper-casual music games are concerned. To date, the company has released over 50 games to receive a total of over 2 billion downloads and has 120 million MAUs. According to the analysis of Amanotes' various types of music games, the combination of "music + hyper-casual" is its long-term product strategy.
In the gameplay of [Dancing Road], parkour plays a much bigger part than music rhythm does, and the item collection makes the game easier to play.
Avoid white tiles; a mix of classic pieces of music
Advertiser: [Magic Tiles 3: Piano Game]
Publisher: Amanotes
Features: music rhythm + avoiding white tiles + hitting notes
[Magic Tiles 3] is Amanotes' most famous product. It's obvious that [Magic Tiles 3]'s gameplay was designed based on that of [Piano Tiles], a game launched by Cheetah Mobile. Thanks to its rich and constantly updated music library and its online battles encouraging social interaction, [Magic Tiles 3] has frequently been among the top 10 most downloaded games.
[Magic Tiles 3] is a famous music game released several years ago. The game focuses on updating songs, user maintenance, and festival and holiday events, instead of updating its gameplay. From the number of its ad creatives, we can tell that [Magic Tiles 3] is in a stable period of advertising. The game's creatives are mainly about a mix of hit songs and a display of its music library together with its gameplay.
Unlike [Magic Tiles 3] offering paid music packages, [Tiles Hop] (another old music game of Amanotes) has solved the two problems in developing music games, which are sky-high copyright fees and insufficient levels, by providing an official music library, allowing users to upload music, and enabling AI recognition of music.
Ⅱ. Traditional music games take the lead; advertising strategies of top companies
Traditional on the surface and fashionable inside
Advertiser: [Dream Piano]
Publisher: Eyugame Network
Features: music rhythm + hitting notes
As a globally well-known music game, [Dream Piano]'s gameplay is similar to that of traditional music games, where players would touch or touch and hold falling items in response to the beats and notes of music. Thanks to its classic gameplay, crisp graphics, and updated music library, [Dream Piano] has been one of the top music games since it was released in 2017.
The game is one of the top global music games thanks to its high quality and a lot of stylish creatives released over time. According to SocialPeta's monthly chart of ad creatives, the game has been frequently seen on the Top 20 chart on iOS.
With the aid of SocialPeta - Advertiser Analysis, we figured out that [Dream Piano] has four patterns of creatives:
1. Various cartoon characters, beautiful covers, old bishōjo game characters
2. Dancing animals, the eye-catching little dog and alpaca
3. TikTok videos with both live-action and animation
4. Live-action video creatives, easy and simple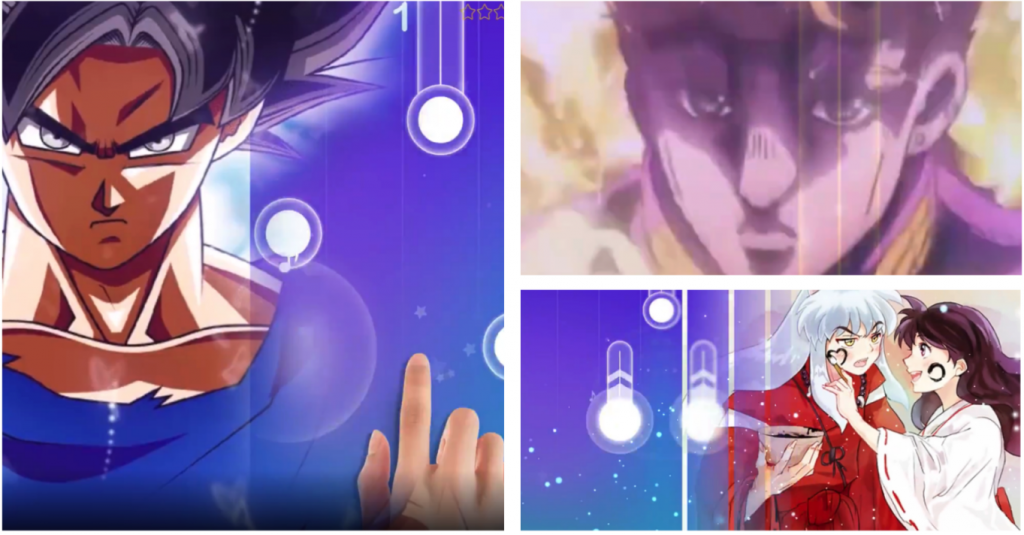 Ⅲ. Parkour music games, fashionable and in cyberpunk style
Sonic parkour: beat & skateboard
Advertiser: [Cyber Surfer: EDM & Skateboard]
Publisher: Badsnowball
Features: music rhythm + parkour action + dressing-up
[Cyber Surfer: EDM & Skateboard] is an atypical hyper-casual music game released in February 2021. To simplify its gameplay for better gaming experience, [Cyber Surfer] replaced the traditional quick time event (QTE) hitting buttons with bigger colored blocks, and removed the whole multi-level hitting notes. The game allows players to ride a skateboard, dashing through blocks of specific colors, until the music stops. By combining simple gameplay and dynamic rhythm, with popular electronic music, the game provides a wonderful audio-visual feast for users.
[Cyber Surfer] generates revenue mainly through payment for unlocking songs, purchasing items, and changing character appearances. Like most hyper-casual games, the game's primary source of revenue is advertising. Users can get revival chances by watching video ads.
It's not the first hyper-casual music game published by Badsnowball. As a matter of fact, Badsnowball is a very low-key game company although it has released many popular music games. The company has thrived in music action mobile games since it launched [Sonic Cat] in 2019 and [Smash Colors 3D] in 2020. It has figured out an always effective combination of music + rhythm hitting + dressing-up for parkour rhythm games, no matter it's about riding a skateboard or dancing balls.
Twin balls double the fun
Advertiser: [Rolling Twins - Dancing Ball]
Publisher: Cobby Labs
Features: music rhythm + ball parkour + item collection + dodging obstacles
Compared to the above parkour music games that focus more on action than music, [Rolling Twins] is more casual in terms of its gameplay and creatives. In the game, a ball dances to the music while collecting items and dodging monsters. It's almost safe to say that the game is similar to [Temple Run] and [Subway Surfers] in every way except for their graphic designs. So, the game's promotional stunt is "Twins" which refers to an ultimate skill in the game for the dancing ball to break into two balls and collect all items.
In its ad creatives, the special effect of twin balls is demonstrated at the climax of the music, which is for the audience's audio-visual enjoyment in order to persuade them into downloading the game. According to SocialPeta - Advertiser Analysis, [Rolling Twins]'s creatives mainly contain elements such as game demo playing, comparison of results, displaying appearances.
What a surprise: It is a music game?
Advertiser: [Dancing Hair - Music Race 3D]
Publisher: Tinymax Games
Features: music rhythm + female-targeted + item collection + dodging obstacles
Besides the above popular casual music games, there is a rough type of music games in the market, which are roughly classified into music games only because they have music and characters reacting to music rhythm.
Take [Dancing Hair] for example. It's a completely hyper-casual game full of self-confidence. The items in the game are for hair extension, hair dyeing, and other women-targeted items. It is considered to be a casual music game only because of the strongly rhythmic music played in the game.
In that case, a mass of casual music game can be quickly produced by merely replacing the hairpiece items with other women-targeted items such as high heels and miniskirts.
From the above popular casual music mobile games, we can tell that the pressure of sky-high music copyright fees has forced music game developers to develop games that are gameplay-oriented instead of music-oriented, or games with low-cost electronic music, or games allowing users to upload music.
Among the above hyper-casual music games, most of them are about parkour and dressing-up items are their main tools to generate revenue. More and more users are willing to pay for personal and customized dressing-up items. From the overall colors of the above music games, it's obvious that casual music games often use light pink or light purple filters, bluish violet, and electric colors for UI.